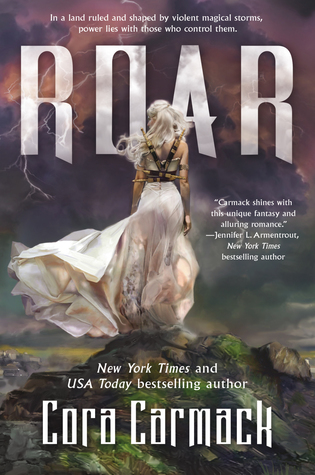 In a land ruled and shaped by violent magical storms, power lies with those who control them.
Aurora Pavan comes from one of the oldest Stormling families in existence. Long ago, the ungifted pledged fealty and service to her family in exchange for safe haven, and a kingdom was carved out from the wildlands and sustained by magic capable of repelling the world's deadliest foes. As the sole heir of Pavan, Aurora's been groomed to be the perfect queen. She's intelligent and brave and honorable. But she's yet to show any trace of the magic she'll need to protect her people.
To keep her secret and save her crown, Aurora's mother arranges for her to marry a dark and brooding Stormling prince from another kingdom. At first, the prince seems like the perfect solution to all her problems. He'll guarantee her spot as the next queen and be the champion her people need to remain safe. But the more secrets Aurora uncovers about him, the more a future with him frightens her. When she dons a disguise and sneaks out of the palace one night to spy on him, she stumbles upon a black market dealing in the very thing she lacks—storm magic. And the people selling it? They're not Stormlings. They're storm hunters.
Legend says that her ancestors first gained their magic by facing a storm and stealing part of its essence. And when a handsome young storm hunter reveals he was born without magic, but possesses it now, Aurora realizes there's a third option for her future besides ruin or marriage. 
She might not have magic now, but she can steal it if she's brave enough. 
Challenge a tempest. Survive it. And you become its master.
---
I must admit that Roar had never caught my eye if it weren't for Fairyloot.
If you don't know what Fairyloot means, it's a monthly subscription box that I've been subscribed to since last year November.
But before I turn this into a Fairyloot commercial, let's get back to the book.
Roar is the first installment in the Stormheart series written by Cora Carmack. I believe it's also her debut novel in the world of fantasy YA.
The book is about Aurora, who is born into a Stormling family. When you're a Stormling, you have abilities that allow you to fight off storms like thunderstorms, blizzards, hurricanes and so on.
But Aurora, despite having a strong Stormling bloodline, is born without abilities. In all her years she doesn't show any affinity to any storm and finally her mother declares her unable to declare. This happens in all secrecy. Especially after Aurora's father and older brother come to pass.
As only heir to their throne, the world can't know Aurora is powerless against the raging storms that wreak havoc throughout the lands.
As a last resort, Aurora's mother finds a way to remain at power while hiding the fact that Aurora has no abilities. Aurora is to marry the second heir of a neighbouring country.
Even though Aurora has her doubts, her betrothed doesn't seem too bad when they meet and she decides it's for the best.
Until he betrays her in the worst way possible.
From that moment on Aurora is sure of her destiny. It doesn't lie in the hands of some cheating bastard from Locke but in her own, and she needs to find out why she doesn't have the magic that runs through her family's bloodline. This new quest takes her to the black markets where she meets Locke, a boulder of a man but as sweet as sugar. He's the one who can give her some answers and even when he can't provide them anymore, his travels may hold the truth.
And so, after fleeing the castle, Aurora sets out on her adventure.
I really loved this book. It's not a favorite of mine but I liked the concept of magical storms raging over the lands and their relation to the ancient Gods. I'm a huge sucker when it comes to fantasy countries and world-building.
Without explaining too much, Cora provides us readers with a whole new world, a whole new religion and a whole new way of life.
I do admit, some things could have used a little more explanation but overal I really loved the set-up.
The plottwist in this book, too, is awesome. There are tiny little hints sprinkled throughout but you're never really sure until it's mentioned in the book. At least, that's how it was for me. I had my doubts about Cassius the minute Cassimir came into play but I could never really place my finger on it until the plottwist happened.
The concept of a Storm Lord also intrigued me because it shook loose some theories I had about Aurora. About who she is and why she seems to be powerless.
I'm really curious to see that part of the story play out in book two.
Another great asset to this book is the romantic aspect. It began a little wonky and it started to look a little like The Remnant Chronicles but it diverted quickly from that path. From the get-go I felt like Cassius was this huge creep that wanted to own Aurora rather than be equal to her.
It gave me all the wrong chills.
Ugh…
But thank God there was Locke ❤ At first I didn't really feel the chemistry because he's all over her from the moment he sees her, and if you've read most of my blogposts you know I hate instant-love stories. But it gets better. There's a slow love growing between them. The banter is amazing! as well as their scenes together. It's usually lighthearted but sometimes a little deeper too. I loved that about their relationship.
---
I rated this book 4 out of 5 stars on Goodreads.
Like I said, I really like this book. It's not the best out there but it's definitely a great read! I'd recommend it to anyone who likes fantasy YA or Magic YA.
With Love,
Leanne