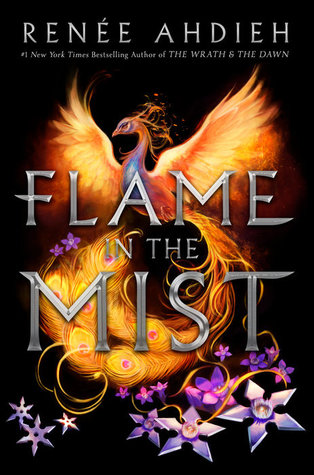 The only daughter of a prominent samurai, Mariko has always known she'd been raised for one purpose and one purpose only: to marry. Never mind her cunning, which rivals that of her twin brother, Kenshin, or her skills as an accomplished alchemist. Since Mariko was not born a boy, her fate was sealed the moment she drew her first breath.
So, at just seventeen years old, Mariko is sent to the imperial palace to meet her betrothed, a man she did not choose, for the very first time. But the journey is cut short when Mariko's convoy is viciously attacked by the Black Clan, a dangerous group of bandits who've been hired to kill Mariko before she reaches the palace.
The lone survivor, Mariko narrowly escapes to the woods, where she plots her revenge. Dressed as a peasant boy, she sets out to infiltrate the Black Clan and hunt down those responsible for the target on her back. Once she's within their ranks, though, Mariko finds for the first time she's appreciated for her intellect and abilities. She even finds herself falling in love—a love that will force her to question everything she's ever known about her family, her purpose, and her deepest desires.
---
Renée Ahdieh is rapidly becoming one of my top favorite authors. After falling head-over-heels in love with her The Wrath and the Dawn, I could literally not wait for this new release.
Especially when we learned of its synopsis; Mulan meets Ronin 47.
Flame in the Mist, is the first novel in Ahdieh's next duology about a young girl named Hattori Mariko (English read: Mariko Hattori), who is the only daughter of a Japanese noble clan and twin sister to a famous samurai.
All her life, Mariko has known one thing to be true; She was born to be married, raised to be sold to nobility and gain her father more wealth, more power and a foothold in the Royal family. But she's so much more than that. Her intelligence craves for challenge, for more than just the married life. She wants to surpass the 'normal' standards for women in her time and be allowed to roam free and do the things she loves.
But she's sold off to the royal consort. A princess without a crown, to be trapped inside a palace without power or freedom. But before she can reach her destination, Mariko's travelling company is attacked by an unknown force and she suddenly finds herself in the midst of a dark plot to murder the prince's bride and stop all access her father has to the royal family.
It's also her chance to take matter in her own hands and spring free from her chains.  And so begins her story. Mariko flees the scene of the crime dressed as a boy and infiltrates The Black Clan, the band of thieves rumored to be responsible for her murder.
Fully commiting to her plan to climb the ranks of the Black Clan, Mariko lets herself become a captive to them but soon she discovers she's been much more blind to the world than she had ever dared to think. And there's so much left for her to learn.
Reading Flame in the Mist was like watching a Japanse drama (Japanese equilavent of TV shows) set in the ancient times when Japan was still an empire. I used to binge a LOT of Asian dramas when I was in High School but it's been a while since I've seen a really great one (See this post if you want to check out some of the best dramas). When I started reading this novel I was immediately thrown back into those days. It excited me so much to be reading and having the feeling like I was watching an epic Japanese drama about Royalty, about a strong leading lady and a band of misfits protecting her and raising her to be the best version of herself.
I had so much fun trying to wrap my head around the complot unfolding inside the palace. My knowledge from watching (way too many) dramas helped me alot and I understood a lot of references without having to look at the explanations at the back of the book. Not that you would need them otherwise because the story is easy enough to follow without knowing all the swords or names given to certain characters. The story itself is pretty much self-explanatory but it was pretty awesome to be able to recognize so many elements.
"Ichi-go, Ichi-e" ~ Only once in every lifetime
I was certainly amazed (once more) how much cultural elements Ahdieh adds to the story. It's not just set in Japan but it truly merges with the culture, the history and everything that comes with it. Apart from the characters speaking English, the rest is Japanese. Everything from the clothes, the swords, the villages, the proverbs… you name it and it's there. Described, roughly translated and explained.
I love that most about Ahdieh's work. It's not just a story about a Japanese girl. It's a novel about a culture, showing the reader how times were in a country different from America or Europe.
In Flame in the Mist I do miss a certain sense of build-up. The story progresses well enough but some things don't rise up from the ground. There's an element of magic or something similar to magic in this book but I had troubles wrapping my head around that aspect of the story. We're not (yet) given an explanation on how certain characters are able to turn to smoke and shadows, or shape-shift.
I also feel like The Black Clan needed a bit more space to grow. There's a huge backstory but it feels like it didn't have enough space to come forward.
Maybe that was an intentional move and we'll learn much more about them in the second book, but -at least to me- it felt like it was lacking that specific part.
The romance too was quick to establish. I understand that sometimes it's the love-at-first-sight kind of thing but it felt off and weird when the sparks did finally fly. There was reason to believe they were drawn to each other but the epiphany of love happened -for my taste- a little too fast and a little too sudden.
HOWEVER it did make me swoon a little ❤ And the moment reminded me sooooo much of Nakatsu in Hanazakari no Kimitachi e, I had to laugh out loud!
Not that there's any dancing with female underwear on top of his head or any proclamation of him not being gay but it reminded me of Nakatsu's sexuality struggle, which made me laugh :p
---
I gave this book a 4 star rating. It's definitely a great read for anyone who loves to read diverse books or Japanese stories. It's also a great read for anyone who watches anime or Asian dramas.
You will not be disappointed!
With love,
Leanne