Emma Carstairs has finally avenged her parents. She thought she'd be at peace. But she is anything but calm. Torn between her desire for her parabatai Julian and her desire to protect him from the brutal consequences of parabatai relationships, she has begun dating his brother, Mark. But Mark has spent the past five years trapped in Faerie; can he ever truly be a Shadowhunter again?
And the faerie courts are not silent. The Unseelie King is tired of the Cold Peace, and will no longer concede to the Shadowhunters' demands. Caught between the demands of faerie and the laws of the Clave, Emma, Julian, and Mark must find a way to come together to defend everything they hold dear—before it's too late.
---
Reading a Shadowhunter novel is like coming home after spending a year far, far away from it. It's warm, it's easy and like being welcomed by a long lost friend whom you've missed so much.
At least… that's how it feels to me.
Ever since I fell in love with The Mortal Instruments 7 years ago, Cassandra Clare's books have made my world spin, and have let me breathe again. And Lord of Shadows, is no different.
Lord of Shadows is the second installment in the The Dark Artifices series by Cassandra Clare. TDA is the sequel to The Mortal Instruments and takes place 5 years after The Dark War (the war between Shadowhunters, Sebastian Verlac and the Endarkened).
In Lady Midnight (see review here) we first meet the Blackthorn family as they've taken residence at the Institute in Los Angeles without the support of a parental figure, with the exception of their tutor Diana and Arthur Blackthorn, who is more than happy to stay a recluse on the attic and busy himself with research.
After finding out the secret behind her parent's murder, and getting justice, Emma and Julian are faced by a new threat.
Malcolm Fade is a stronger opponent than any of them ever thought, and he won't back down without bringing back his long lost love. And when he succeeds, she might just be the most dangerous being in the whole world.
Where LM was just the beginning about everything, LoS gives us much more insight about The Cold Peace, Parabatai bonds and the inner workings of Faerie. Also, there's so much character growth and depth…. There's little to nothing that I don't like about this book.
Cassandra has a way of making even the least interesting characters, fascinating. Whereas I didn't really have any opinion about Kit in the previous book, he's become a favorite of mine quite rapidly this time around. I loved reading his POV and getting to know Livvy and Ty much better.
PROTECT TIBERIUS BLACKTHORN AT ALL COSTS PLEASE, THANK YOU
In Lord of Shadows we also travel back to Faerie, but this time we get to see places we haven't seen before. We've heard of the Unseelie Court but never have we travelled there. It's amazing to see how that part of the Faerie realm works and how it's different from the Seelie Court.
I absolutely LOVED how it was -more or less- all about learning where Kieran comes from, and why he is the way he is now. I loved getting to know more about him and having him pop up more in this book.
No matter how broken things were between him and Mark, I'm still rooting for them.
So. Dayum. Much.
Although I very much like the tension between Cristina, Mark and Kieran at the moment. The set-up for that pairing is really strong in LoS and, although I ship Mark/Kieran pretty hard, it's a little hard to choose between Kieran/Mark, Cristina/Mark or Kieran/Cristina.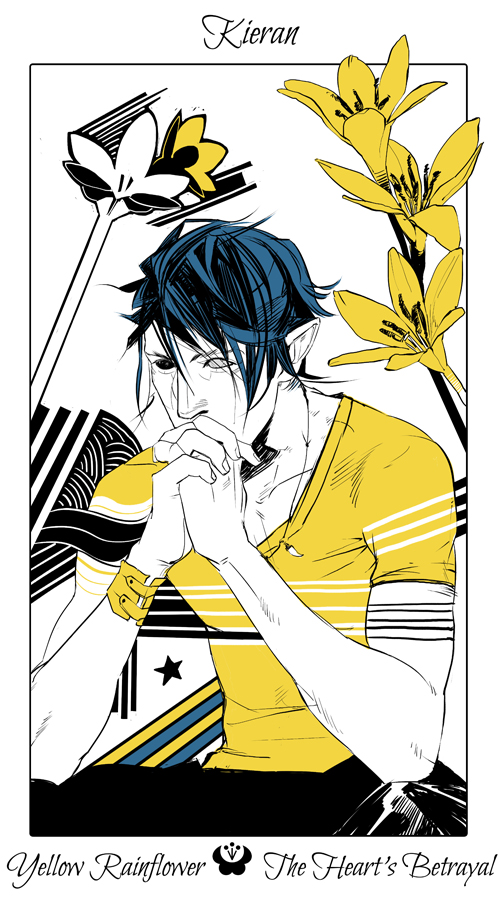 One of the most amazing things about LoS is Mark's character development. It was pretty killer in LM but this time he's questioning himself as a brother and becomes a better person because of it. His Shadowhunters blood makes him liable to tell untruths which makes him doubt himself sometimes. Lying doesn't come easy but as a brother he will do whatever needs to be done in order to protect his kin.
He deals with prejudices, with hatred, disloyalty and betrayal and you see him grow through it and become an even better person.
I really hope that there's some brotherly bonding between him and Julian in the next book. There wasn't much room for than in LM when Mark had to -basically- relearn how to be a familymember and a brother, or in LoS when Julian thought Mark and Emma were a thing.
*listen to my heart breaking into a thousand little pieces*
Emma and Julian's story in LoS is also a really interesting one. There's the hardships that come with trying to break the love between them which broke my heart a thousand times over for Julian and only having Emma know why.
We watch them realise becoming Parabatai was the worst thing they could have done, and we find out that there's a solution to the curse but one not without consequences. One they're not quite sure they want to face.
Now.. I don't want to spoil too much for you guys BUT SINCE THIS BOOK HAS HAD ME FLIPPING MY SHIT AND UGLY SOB AND CRY HAPPY TEARS AND JUST FEEL ALL THE FEELS I can't seem to stop talking about it an praising it.
Especially since the Blackthorns had to up and run to the London Institute….
Oh London….
I knew this beforehand so I knew I had to steel myself for any William, Jem, Jessamine or James mentions and HALLELUJAH did they come and go. It was subtle, it was funny and so so welcome. I couldn't stop grinning when Kit called Will and idiot for scribling in the library books. I couldn't stop hugging the book whenever the Institute was described or when the rooms came into view.
I haven't been able to reread TID completely due to major feels (that mostly have to do with a certain Herondale and Carstairs) but crave for every mention, every subtle reference… I felt so giddy ❤
I just truly love these books.
The ending of LoS is what sent me straight to the bottom of a BOOKHANGOVER well that's waaaaaaaay too high to climb out of for now, and therefor I'm currently drowning in a sea of my own tears because OUCH THAT ENDING HURT !!
I mean… the ending to Lady Midnight was pretty bad but it was nothing, NOTHING compared to what's in story for you if you're about to read Lord of Shadows. I finished it yesterday before going to work and it was all I could think about. All I can still think about.
It's insane!
And to think we have to wait another year to find out what… what happened to….
Ugh… and just when I picked my fave character in this series, all hell breaks loose and he's… he's… *sobs*
---
I rated this book 5 out of 5 stars.
Like I said… there's little to nothing I don't like about this book.
I loved it even more than Lady Midnight and the next is probably even better.
With love,
Leanne
!!Credit header: cassandraclare.tumblr.com!!