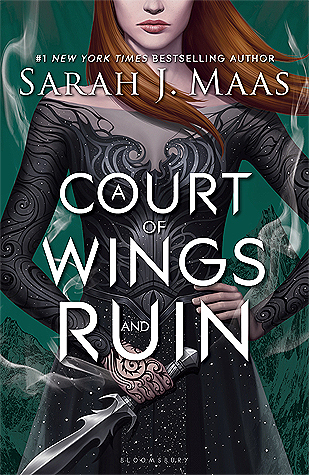 Looming war threatens all Feyre holds dear in the third volume of the #1 New York Times bestselling A Court of Thorns and Roses series.
Feyre has returned to the Spring Court, determined to gather information on Tamlin's maneuverings and the invading king threatening to bring Prythian to its knees. But to do so she must play a deadly game of deceit-and one slip may spell doom not only for Feyre, but for her world as well.
As war bears down upon them all, Feyre must decide who to trust amongst the dazzling and lethal High Lords-and hunt for allies in unexpected places.
In this thrilling third book in the #1 New York Times bestselling series from Sarah J. Maas, the earth will be painted red as mighty armies grapple for power over the one thing that could destroy them all.
---
First of all, this review will be divided into two parts. ONE, a non-spoiler zone in which I will explain my thoughts on the book without spoilering any of the plot.
TWO, a spoiler filled zone in which I explain all the feels I had during my reading session.
---
**Part One; No Spoilers**

What immediately caught my attention was how the book is nothing like the synopsis says. It's nothing what I had ever expected it to be, either. And I think a lot of fans will agree with me when I say…..
Was this it???
Without giving any spoilers, I felt like the first part of the book was very rushed. Things happened left and right without creating any storyline of build-up of plot. A lot happened yet at the same time I felt like nothing was going on.
It felt like Sarah needed to cram so much stuff in a very small space that her writing -as we know it- transformed into something similar to that of The Selection, where nothing happens for a reason and everything is random.
I couldn't wrap my head around some of the things Feyre did. In Sarah's previous books everything was always part of something. Nothing happened without it being important or part of some grander scheme.
But this time…
So much stuff happened at random, it didn't feel like Sarah's writing anymore.
That said, I do love the book. It was worth the wait, for sure. I lauged, I cried and bawled my freaking eyes out but I love it. It isn't the perfect ending to the trilogy, but I am still in love with it for it gave me more Cassian, more Azriel, more Morrigan and definitely more on Lucien ❤
So that's something to look forward to before picking up the last piece of the ACOTAR series with Feyre as main.
---
**Part Two; SPOILER ALERT**
CAUTION!! If you have not yet read this book OR this bookseries, and you don't want to be spoilered- back away, move quick and whatever you do, don't scroll down!!
.
.
.
.
.
.
Now that I can talk freely….
After finishing this book I'm left with at least a thousand questions. Not all of them concerning Rhys and Feyre but a majority of them does still surround them.
Like I said above, some things just didn't click into the story. Most things felt like a distraction or some haphazard attempt at trying to redeem a character, raise a character or introduce one in a way to answer some of the lingering questions.
But it was too much, too fast.
The first part at the Spring Court, especially, felt rushed to me.
All year I've been talking with fans about ways in which Feyre would deal with Spring, how she would screw with Tamlin's welfare and burn his empire down. I got so excited by fan theories and all the possibilities that this… it kind of disappointed me.
I mean, yeah she does screw him over and yes she plays him like a fiddle but she's gone and back in the Night Court before I could grab some popcorn and settle down to watch her burn that place down.
The whole revenge thing got a little lost…
By that time I was losing my shit about the Feyre/Lucien bond coming back. Their friendship was one of the most genuine and likeable connections from the first book and I was so sad to see it go during ACOMAF. Watching Lucien going down with the Tamlin boat drove me to hate him for a bit.
I'm so happy he got to show his true colours. I'm over the moon about how he earned some of the spotlight and made things right with Elain (not that they're on the kissy side of it all) by turning gentle and kind and slow down. He's actually willing to find out if she's worth it, if they're compatible together and actually trying to find out who she is.
God, I love him so much ❤ It's one of the best things this book has to offer. Lucien's path to redemption and the rekindling of the Feyre/Lucien friendship.
The way Feyre used him to make Tam jealous… man that was amazing! LOL
Back at the Night Court things just seemed to get weirder, writing style considered. I know the relationship between Feyre and Rhys was pretty much established in ACOMAF but they're moments together seemed to be all about sex -which I will never complain about- and not so much their talks anymore, and I missed that. I missed that banter between them. That easy and teasing note to their relationship.
The banter that they did share felt out of place, somehow.
It didn't feel like the Rhys and Feyre we left at the end of ACOMAF.
BUT I'm happy we got so much of them. At the end of the previous book I was dead-scared of Feyre not returning to the Night Court until somewhere at the end, so this was much better.
Yes, I found it a bit too quick for my taste but at least I got more Feysand out of it ❤
They're reunion was everything I could have asked for. I was sobbing by the time Rhys appeared behind her and Feyre turned around to meet his eye. I was all giddy when she broke down and he rocked her.
It was so, so beautiful.
Although Sarah mentioned that Tamlin would get his redemption in ACOWAR, I haven't really seen it.
Sure, he blew his cover by going after those hounds to safe Feyre, Azriel and Elain but that doesn't sound like redemption. Not to me at least. Not when he got to the High Lord meeting with the sole purpose of blaming Feyre for all and not taking any of the blame.
I expected him to save Feyre somehow, when Sarah mentioned redemption, but this is yet another example of how rushed things were in this book. Tamlin remained his self-righteous and condescending self throughout the book, safe for a few moments in which he either saved Feyre from certain death or gave her something he could not refuse. There's no character growth anywhere… or redemption… or even a hint of him seeking it.
Which is kind of disappointing. It leaves a hole. Most certainly so when he and Lucien are still unresolved and at odds. It leaves so many questions.
Apart from Lucien taking more of the spotlight, I was crazy excited about learning more about Cassian and Azriel. They pop up sooooo much in this book, I was delirious by the end. I craved them in ACOMAF and finally got what I wanted.
There's a lot of Nessian going on where Nesta just kindly ignores him, ditches him or tells him off and Cassian only pokes back. I'm so excited about those two.
And learning about Cassian as a commander, as the warrior he is… it was amazing! We finally get to see him in action ❤
And Az too! We finally get to see his powers at work. We watch him actually transform into shadows and…. Oh my God, that whole teaching Feyre how to fly… it warmed my heart and healed my soul. He was so distant and shy in the previous book but I could definitely see a true alliance/friendship establishing between Az and Feyre.
It was so beautiful to watch them grow close and hearing him tell the story behind the Nephelle Effect.
Azriel really grew on me this time. I wasn't so sure about him in ACOMAF because he didn't really show himself. But now…. Sarah did it again. I fell in love with Azriel and I truly hope he gets one of those novellas.
The ending, although perfect in a way, felt a little rushed again. It went from this to that in a nano-second (which could lead to chaos coming from the war) but so much happened at the same time, that I had difficulty keeping up with the story.
I'm happy things went the way they did. Nesta was freaking badass with that sword. Beheading the king like that! If there was ever a moment to put in a movie… this is it! And Elain!! She finally showed some balls there 😀
That was kickass!!
But it also broke me when their father had to pay the price. They were just reunited only to be seperated again. It was so uncalled for. So unecessary 😦
But that wasn't what truly broke me. I knew it was coming. I knew it from the moment they accepted the mating bond.
One of them was going to die. Yet it still hurt like a bitch when I read those words…
"Rhys was dead".
I hadn't cried like that since Clockwork Princess… or The Rose and The Dagger. It ripped through my Feysand shipping heart and broke me into ugly sobs. Oh man… I'm still shaky when I think about it :p
The actual ending, though… left me feeling unresolved. Like there are still so many questions concerning Rhys and Feyre that I need answered. But they won't return as main characters anymore. This was it.
it hurts even to write that down… it makes it so final
I still need to know if Rhys possesses his own power instead of those of all courts? He said something about his power being his own, no thieving… but I don't understand. Does this mean he's still the most powerful high lord? Does he still own nothing but night, darkness and all that belongs to it?
And why did we get that small chapter from his POV? What does it mean?
I hate open endings :p Even though this one seemed pretty closed, I didn't get any closure. Hopefully the novellas will remedy that.
---
So what did you think of ACOWAR??
Did you feel the same as I did? Or did you feel it fit the play?
I rated it 4 out of 5 stars on GoodReads. It's not perfect but it's still pretty damn close ❤
With love,
Leanne