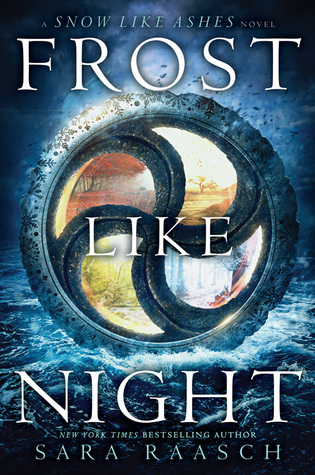 Angra is alive, his Decay is spreading—and no one is safe.
Meira will do anything to save her world. With Angra trying to break through her mental defenses, she desperately needs to learn to control her own magic—so when the leader of a mysterious Order from Paisly offers to teach her, she jumps at the chance. But the true solution to stopping the Decay lies in a labyrinth deep beneath the Season Kingdoms. To defeat Angra, Meira will have to enter the labyrinth, destroy the very magic she's learning to control—and make the biggest sacrifice of all.
Mather will do anything to save his queen. He needs to rally the Children of the Thaw, find Meira—and finally tell her how he really feels. But with a plan of attack that leaves no kingdom unscathed and a major betrayal within their ranks, winning the war—and protecting Meira—slips farther and farther out of reach.
Ceridwen will do anything to save her people. Angra had her brother killed, stole her kingdom, and made her a prisoner. But when she's freed by an unexpected ally who reveals a shocking truth behind Summer's slave trade, Ceridwen must take action to save her true love and her kingdom, even if it costs her what little she has left.
As Angra unleashes the Decay on the world, Meira, Mather, and Ceridwen must bring the kingdoms of Primoria together…or lose everything.
---
Okay… so… WOW
The end of one of my favorite series is here and I spent a long time trying to postpone this but my curiosity and longing for the characters and their stories got to me. In the end.
So reading I went AND I'M BROKEN *cries*
Frost Like Night takes us to the edge of Primoria as Meira tries to scramble her life together in order to train her abilities and strength of mind. But with Angra on the loose in physical form, becoming stronger is no easy task. Meira is lost in her destiny and weighed down with the loss of her friends, and guilt for what she's done.
All the while, Mather tries his hardest to safe his queen. Even when everyone tells him Winter should come first in all things, Mather becomes a barrier between Meira and anything that might harm her.
Ever since book one I was rooting for Mather -not only romantically- to thrive. He seemed like a kicked puppy in book one. A boy who shouldered too much being the son of a dead queen to an empire that could only bend magic via a female royal. I also kind of disliked him for a bit since all he could think about was Winter and how happy he was to learn he wasn NOT the late queen's son.
But my puppy redeemed himself in my eyes and I loved him dearly in book two; Fire Like Ice.
What I loved even more was to see how he became even stronger a character in Frost Like Night. Just like Meira. Both characters have become so fierce and strong in the last piece of this series.
The series itself underwent a major growth as well. It unraveled to a point where things from book one started to make even more sense. Meira's magic can only be used on Winterians and it can never be used for personal gain unless she wants to feed the Decay.
And OMG that Decay!!!! I knew what the Decay could do to people but never in a million years did I expect it to happen to ……. (I'm not going to name any names here…. find out for yourself :p) i mean… I knew what it could do after being tortured but for it to latch onto a person -weak of mind- like that. The book kept me amazed that way.
That said, however, there were times that I felt like the storyline was rushed through. Like some things that could have taken for ever to develop were over within the span of a chapter.
I really ,really love this series because of its look on magic use. I liked the whole world of it but…. the evil, the decay… I don't know… it didn't feel as dangerous to me as it should. The description of it in the previous books was something horrifying but actually seeing it.. it didn't have that edge.
Angra's plots were visible and easy to handle and him having the ability to travel crosscountry in the blink of an eye made things even easier.
I knew he was going to show up in that cave, too. End game aside, I just knew he was going to be there so that thrill was lost on me. I missed the emotional rollercoaster in this one. I didn't have the same feels overload that I had with the previous books and I hate that. I hate that I don't like this ending as much as its prequels…. because I love the series so much.
And Sara Raasch.
I love her too ❤ She's an amazing writer. Hopefully she'll be able to write lots and lots of more books.
She could have easily written Snow Like Ashes as a 6-books-series… I mean… gimme all that training shizzle PLZ. Gimme Meira and her badass abilities. I want to know everything about it.
Also, I would die for more Jesse and Ceridwen scenes *teehee*
And Theron… Oh God Theron… I feel like there's so much more to tell from his perspective.
I just wish it could have been one more book.
Still love the series, though ❤
---
I gave this book 4 out of 5 stars. I didn't give it 5 because of reasons mentioned above but it breaks my heart to do this. This series is so high on my fave list that, maybe, my hopes were up a little too high.
Wouldn't be the first time.
Anyway, if you haven't heard of Snow Like Ashes before than please follow this and add it to your TBR. It's a must read if you love fantasy as well as magic, a great plottwist and an amazing set of characters.
Except for Sir…. I still hate his guts
With love,
Leanne