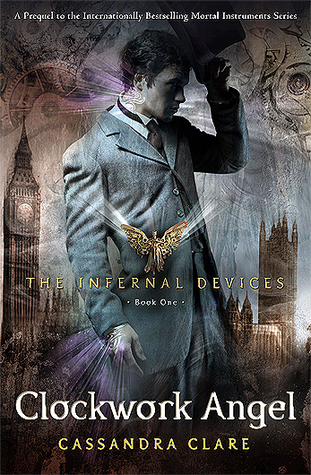 In a time when Shadowhunters are barely winning the fight against the forces of darkness, one battle will change the course of history forever. Welcome to the Infernal Devices trilogy, a stunning and dangerous prequel to the New York Times bestselling Mortal Instruments series.
The year is 1878. Tessa Gray descends into London's dark supernatural underworld in search of her missing brother. She soon discovers that her only allies are the demon-slaying Shadowhunters—including Will and Jem, the mysterious boys she is attracted to. Soon they find themselves up against the Pandemonium Club, a secret organization of vampires, demons, warlocks, and humans. Equipped with a magical army of unstoppable clockwork creatures, the Club is out to rule the British Empire, and only Tessa and her allies can stop them…
---
For someone who claims to be one of the biggest Shadowhunter fans out there, reviews of the books really shouldn't be missing on her blog. Therefor, I finally made the decision to reread The Infernal Devices and upload the reviews.
I was so not ready for this.
I have to warn you guys, though. These books have destroyed me when I first read them which caused me to have an ugly sob session whenever Will Herondale is mentioned in Cassie's books.
Imagine that TFSA reading experience…
Anyway, I finished rereading Clockwork Angel yesterday and tried to set up a nice review immediately but it proved to be quite the exercise. Reviewing a book that brought me so much feels is pretty hard. Especially when it's one of the best books that I have ever read.
Cassandra Clare's magic initially reached me via The Mortal Instruments. Halfway through that series (when I had to wait for City of Lost Souls) I started The Infernal Devices and fell in love with Victorian London Will Herondale right away. I am quite familiar with the city so reading about it within the span of another time period was really fun. There were a lot of things I could still picture in my head like Blackfriars while I had to imagine other places by using Cassie's description.
Like The Mortal Instruments, TID uses several POVs. Everything is told from a third person narrative which allows us to follow each character introduced to us. The one we follow the most throughout the book is Tessa Gray -a mundane gone Downworlder (anything that isn't demonic, mundane or a shadowhunter) who is stuck in London in search of her brother- but we also follow William Herondale, Jem Carstairs, Charlotte Branwell and a little of Magnus Bane.
All of these characters have backstories that we get to know or get glimpses of and Cassie's managed to write them in such a way that it feels like we know the characters mentioned, yet at the same time we know we don't. I mean… it's obvious there's more to Will than the thick walls of sarcasm and rudeness, and the relationship between Charlotte and Henry is really interesting too. Apart from that, we get to know what has happened to Jem and what lies in the future for him…
*insert major feels*
I just love this book so much. This review is soooooo hard to write because I can't get my feelings straight about this one. It's just that good.
All I want to say is that I love this book with all my heart. It's funny. It's dark. It's exciting and magnificent and so so much more. And that it's not just about the world's most epic love-triangle. It's not just about shipping Wessa or Jessa but it's about so much more. It's about a girl trying to find her way in a foreign country, trying to reunite with her family and discovering herself. It's about two boys. One dark and the other fair. One immersed in shadows and cloaked in self-shaming lies, the other dying of a demonic drug. It's about a woman trying to fight for her rights in a man's world.
And Cassie manages to write all of these stories and bring them together in one storyline. There isn't a single POV that I disliked or wanted to skip. I truly love all the characters.
And that's precisely the reason why this series drove me mad.
Well… actually it was Will who drove me mad. And Jem….. damn those boys… and that stupid, mind-blowing, outrageous, incredibly epic love-triangle that actually works but still makes me feel like I should drive of a cliff.
---
Of course I gave this book a 5 star rating. If I could I would give it 10.000 stars and possibly even more. The Infernal Devices is truly a masterpiece and you should really, like for reals, read it asap. It's all the things you could have asked for.
(I'll be better at this with Clockwork Prince, I promise)
With love,
Leanne
credit banner @TMISource