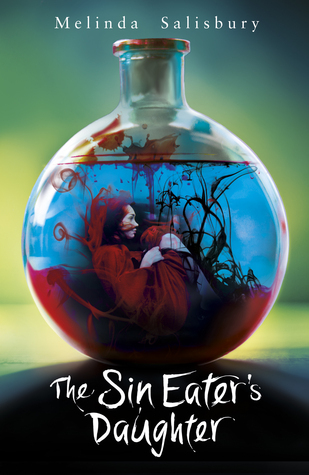 A startling, seductive, deliciously dark debut that will shatter your definition of YA fantasy. Sixteen-year-old Twylla lives in the castle. But although she's engaged to the prince, no one speaks to her. No one even looks at her. Because Twylla isn't a member of the court. She's the executioner.As the goddess-embodied, Twylla kills with a single touch. So each week, she's taken to the prison and forced to lay her hands on those accused of treason. No one will ever love her. Who could care for a girl with murder in her veins? Even the prince, whose royal blood supposedly makes him immune to her touch, avoids her.But then a new guard arrives, a boy whose playful smile belies his deadly swordsmanship. And unlike the others, he's able to look past Twylla's executioner robes and see the girl, not the goddess. Yet a treasonous romance is the least of Twylla's problems. The queen has a plan to destroy her enemies-a plan that requires an unthinkable sacrifice. Will Twylla do what it takes to protect her kingdom? Or will she abandon her duty in favor of a doomed love?
---
This book has sat on my shelves untouched for quite a while so it was about time that I started reading it. I heard many great things about the novel and the cover is beautiful so I expected it to be great.
And it was…. It really was 😀
The Sin Eater's Daughter is a story about Twylla who lives with her mother, two brothers and a little sister in the realm of Lormere. Her mother is the fearful Sin Eater, which means she eats all the sins of those who have passed away, and -ever since Twylla can remember- her mother has trained her to be the next Eater. So Twylla has been almost everywhere in the country including the castle of the King and Queen.
Twylla never expects to see it again until, one day, the Queen comes to her house to provide Twylla with a choice; Leave with the Queen and fullfil her destiny as Daunen Embodied -a Goddess's daughter rumoured to be reborn in human flesh- or remain with her mother and become the next Sin Eater.
Twylla decides to leave. Young and innocent as she is, she longs for the richess and comforts the castle and its status can bring her. What she doesn't expect is that her destiny at the castle means that she has to become their executioner. As Daunen Embodied, Twylla has to drink a mixture of her own blood and Morningsbane poison on the day of the Telling, which occurs once every month. She has to ingest the poison and survive to prove herself worthy of the Gods but that's not the only thing….
With the poison running freely through her veins, Twylla becomes poisonous  to everyone except those blessed by the Gods themselves. With just one touch, she can kill a grown man.
And to live in the castle mean to live by the rules of a ruthless Queen.
So when her newly appointed guard comes to close to her by heart, Twylla has to play a dangerous game to keep herself and those she loves safe and well while making sure she doesn't touch anyone.
I have to admit, there some confusing parts in this book. There's a lot of plot to get through and a lot of world building to familiarize yourself with but it's really worth the effort. At the end, it did all make sense and I can't wait until I get my hands on part two of this series.
Melinda does a great job at storytelling in this novel. She lets us explore the world of Sin Eating while providing us with new Gods, several background stories and a main plot that involves a spider's web closing in on the main characters.
And getting to read through Twylla's POV is absolutely amazing. All her life she has known only two things. One, she had a destiny to fullfil. Two, she never had a choice in the matter but one and she blew that single choice.
The fact that she knows she screwed up but accepts that turns her into a truly interesting character. She's not reckless but she still rebels against the iron grip the Queen uses to rule her people. Just… not in ways that are obvious. I  love her to death ❤
And OMFG that plottwist!! Holy hell!! It. Blew. Me. Away!!
However, there was one time though that I went like:
**SPOILER**
I never did trust Leaf
**END SPOILER**
The world in this book is also very interesting. There were three Realms: Lormere, Tallith and Tregellia. Lormere, being the smallest, has always thrived on belief and duty alone. They have little to no health system and little wealth while the other two have always believed in alchemy more than the Gods. Tregellia, the wealthiest of the three, has an upstanding amount of alchemy and makes its own gold.
Tallith, however….. has been corrupted after their Prince fell ill and went into a deep sleep -his story turned into a myth-.
And it's sooooooooo incredible to read about all of this and see a great plot unfold. I'm so sorry that I can't tell you much more because it would ruin everything. The plot is very sensitive to spoilers so I won't tell you much more than JUST START READING THE BOOK OKAY IT IS FRIGGIN EPIC!!
---
I rated this book 4 out of 5 stars. I know I make it sound as if it deserves  5 stars but there were some things that took points off the total. I missed some hints towards The Sleeping Prince. It felt like that part of the story couldn't push itself through all the other world-building and it deserved so much more attention since it became such a huge part of it.
But still, the book is amazing!
With love,
Leanne