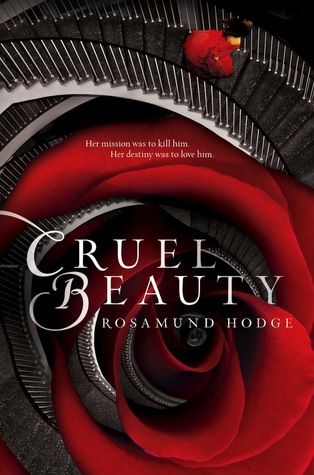 Based on the classic fairy tale Beauty and the Beast, Cruel Beauty is a dazzling love story about our deepest desires and their power to change our destiny.
Since birth, Nyx has been betrothed to the evil ruler of her kingdom-all because of a foolish bargain struck by her father. And since birth, she has been in training to kill him.
With no choice but to fulfill her duty, Nyx resents her family for never trying to save her and hates herself for wanting to escape her fate. Still, on her seventeenth birthday, Nyx abandons everything she's ever known to marry the all-powerful, immortal Ignifex. Her plan? Seduce him, destroy his enchanted castle, and break the nine-hundred-year-old curse he put on her people.
But Ignifex is not at all what Nyx expected. The strangely charming lord beguiles her, and his castle—a shifting maze of magical rooms—enthralls her.
As Nyx searches for a way to free her homeland by uncovering Ignifex's secrets, she finds herself unwillingly drawn to him. Even if she could bring herself to love her sworn enemy, how can she refuse her duty to kill him? With time running out, Nyx must decide what is more important: the future of her kingdom, or the man she was never supposed to love.
---
Since I was still suffering from a bookhungover after reading The Rose and The Dagger and A Court of Mist and Fury, I decided I needed some new reads and went on searching for similar novels to the aforementioned ones. And thus, I stumbled upin Cruel Beauty… a novel, they say, is based upon the fairy-tale The Beauty and The Beast. Just like ACOMAF and its prequel.
The novel gave me mixed feeling before reading it. Goodreads reviews weren't all that good but there was certainly a hype surrounding this book. It could go either way so I expected it to be a gotta-love-it or you hate it kind of book.
I didn't do both….
I kind of fell into the gray area in between the love or hate thing.
Cruel Beauty is about Nyx Triskellion who was born -along with her twin sister- from a bargain made between her father and the Gentle Lord. The Gentle Lord being a demon in this scenario.
The bargain struck told that the father would conceive twins but one had to be handed over to the Gentle Lord in marriage after she turned sixteen. So it was decided that Nyx, the first born, would be sacrificed in a battle to the death in an attempt to destroy the demon in his own home.
Nyx goes along with it. All her life she has known that her life was forfeit before it even began. With a heart full of bitterness and hatred, she lets herself be transformed into the perfect little bride for a demonic man who has devoured the land and kept its people from gazing at a true sky, stricking bargains with those who come to him for aid and twisting his promises to murderous outcomes.
Nyx is destined to destroy him but the more she tries to believe those lies, the more she'll come to understand that she's send to her death instead. But then she comes to discover that the Gentle Lord is not exactly who she thinks he is. What if there is more to him than meets the eye?
There is so much potential in this book that I was seriously trying to like it… but I didn't. Not as much as I hoped I would. It just didn't live up to my expectations, which weren't that high.
There's much to love about this novel. It's got great writing, it's got some loads Greek mythology and a plotline that could have been so epic. Nonetheless, the characters remained flat no matter how much Rosamund tried to turn them into something likeable. All I know about Nyx, our main character, is that she's unloved by her father and that she struggles with bitterness… I seriously don't know what makes her tick because even her reasoning  wasn't logical. It ran in circles….
And, to be honest, I thought the story resembled the fairy-tale of Rumpelstiltskin more than it did The Beauty and The Beast…. I never caught any hints to any resemblance between the two stories but could connect it with Rumpel more. The bargains… the name guessing (Nyx could earn freedom by guessing the Gentle Lord's true name)… Idk.. it just didn't seem so TBATB to me.
The romance in this book takes up a huge part. It is an Insta-love kind of setting so if you're not fond of those, like me, you'd better approach this book with caution.
You see, there's two men in this book. Shade, a Peter Pan kind of Shadow who is bound to his master, and Ignifex the Gentle Lord who rules Arcadia and its people. Almost instantly, Shade sweeps our lovely female lead off her feet moments before she softens for Ignifex.
Okay… you might say she falls in love with two parts of the same person since they basically are just that but still… it was too fast for me. It happened without any ground work and so it felt alien and unreal to me. I couldn't relate to any of it because, yet again, it felt bland.
I just couldn't care any less about any of it.
---
I gave this book a two star rating on Goodreads but in fact it's a 1.5 star rating. It's got some major potential and it's sad to see it go to waste. Also, I couldn't finish one chapter without being trampled by all kinds of Greek mythologies.
Don't get me wrong. I love a nice Greek myth in my books. Actually craved them for a while but this book was so packed full of them that it was damn hard to keep track sometimes.
With love,
Leanne