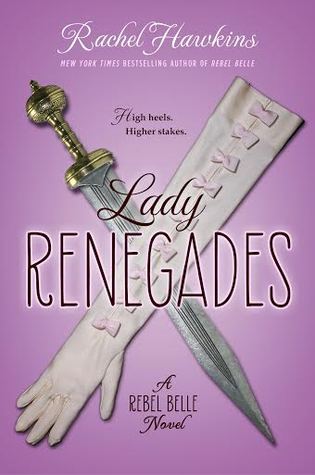 Just as Harper Price starts coming to terms with her role as David Stark's battle-ready Paladin, protector, and girlfriend—her world goes crazy all over again.
Overwhelmed by his Oracle powers, David flees Pine Grove and starts turning teenage girls into Paladins—and these young ladies seem to think that Harper is the enemy David needs protecting from.  Ordinarily, Harper would be able to fight off any Paladin who comes her way, but her powers have been dwindling since David left town…which means her life is on the line yet again.
---
It's so silly of me to never have noticed the release date of this book coming up and passing me by. So I only found out a couple of days ago that Lady Renegades was out there and ready for me to grab it.
After Miss Mayhem, I was a little hesitant as to where the story was going and whether I was going to end up liking it but because Rebel Belle was definitely kick-ass, I was willing to end the series with a smile.
Lady Renegades is about Harper who's dealing with the aftermath of being royally dumped by David. Without as much as a text or anything, David blew town (quite literally) and left her, and without an Oracle to protect, Harper's powers are dwindling. To make things even worse, she's being haunted by other paladins who are convinced that she's out to kill David. Even David seems to think so.
*it's all quite confusing*
Without being able to control much of what he's doing, David is making paladins as he goes and for some reason they think Harper is the prey so -in order to set things right- Harper, Bee and an old friend go on a road trip to find some answers and possibly save their oracle. Or not.
I must admit, I didn't read the entire story. I got bored somewhere in the middle and decided it just wasn't worth my time. I did read the end to see how it all comes to a close but even that couldn't surprise me.
It was kind of a let down, really….
Which is soooooo darn sad because this series started of soooo damn good. I really liked the first novel, and I will always like Rebel Belle but the two sequels just didn't live up to the hype on my part. It just wasn't what I imagined it could be or hoped it could be….
---
And that's all I want to say about it.
If you've loved Miss Mayhem then you'll probably love this one too. I swear. But it just isn't doing it for me because… I wish it was something more.
With love,
Leanne