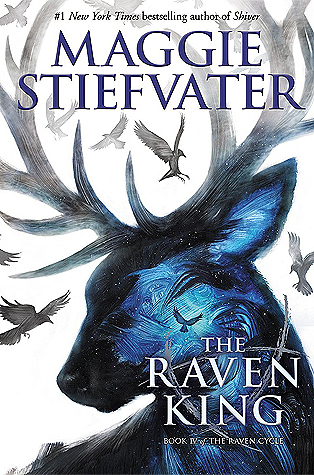 Nothing living is safe. Nothing dead is to be trusted.
For years, Gansey has been on a quest to find a lost king. One by one, he's drawn others into this quest: Ronan, who steals from dreams; Adam, whose life is no longer his own; Noah, whose life is no longer a lie; and Blue, who loves Gansey…and is certain she is destined to kill him.
Now the endgame has begun. Dreams and nightmares are converging. Love and loss are inseparable. And the quest refuses to be pinned to a path.
---
I have been waiting since forever for the publishing of this book. The series has been driving me crazy since the very moment I started out reading so my expectations for this particular YA novel were pretty high, and I'm not sure if my expectations were met or not….
The Raven King is the last novel in The Raven Cycle series. It's the end of an era, one might say. In this book we follow Gansey, Ronan, Adam and Blue towards the bloody ending of their quest. But not only do we dig deeper in these characters, we also meet new ones, visit some older ones and get some insight upon the sales of supernatural artifacts.
Piper Greenmantle, whom we've seen last in the cavern just before she woke the third sleeper, is currently lurring every notorious supernatural artifacts buyer to Henrietta in order to sell whatever she found in the crypt. But she's too blind and power-hungry to realize that the third sleeper isn't one to be sold off. Instead it's the only thing that can unmake every single thing ever made by the Greywaren.
Whom we all know is Ronan…
Meanwhile, our beloved clique is facing problems and demons of their own.
Adam, realizing Cabeswater is being curropted by something far more powerful than darkness, struggles to remain himself while his eyes and hands are slowly getting out of control.
Ronan, still dreaming, notices that his dreams are slowly being transformed into nightmares with everything that was once so pure and beautiful is rotting or decaying.
Gansey, fully aware of his impending death, is trying to make sense of it all. If his fears, his struggle with time, his relationship with  Blue and the deathly prediction that comes with it while knowing his friends are dealing with stuff much bigger than him.
Blue, still trying to make sense of herself, has to deal with a suddenly reappeared father who's hiding out in a cupboard while trying to keep Gansey safe.
Noah…. well, Noah is hard to explain. Ever since the second or third book his story arc has been kind of wonky and tricky. I don't really think there's a way to describe past-murder Noah except for when you meet him in the first book and you're still utterly unaware of him being undead.
Maggie Stiefvater is a master in stories like these. It's an intricate maze of storylines and plots that she manages to weave into one and another without it becoming to crowded or overwhelming. We, as readers, can still keep track of every character separately without losing track of the overall plot. It's always there, whether you're reading from Adam's POV or that of The Gray Man.
And that's some badass writing, right there.
The writing style, however, did feel off to me this time. I initially liked these books because the words flowed and the story peaked my interest but this book is written in a chaotic and haphazard way. I do think that that's to blame of the things that happen within the book but still…. it was so different from it's prequels that I needed so much time to get readjusted that I lost sense of the characters. I had to redo my imaginations of them in my head.
I mean, Gansey has always been this guy whose older than his age to me. Someone who loses all sense of his surroundings when absorbed by his findings and research but now he felt like an insecure teenager to me. I'm not saying I hated that or disliked it but it felt off…
It was the same with the other main characters…
But that's the only point of critic I will be putting up here on The Raven King because it was epic. It was amazing. It was incredible. And it did (well maybe not entirely) live up to my expectations. The little hints towards Ronan being gay throughout the series finally paid off. I was sooooo damn happy when Pynch finally happened. AND THANK GOD ADAM WASN'T WEIRD ABOUT IT ❤ These two deserve so much and then some. I loved their character development (especially Adam's who was kind of a dick in the first two novels but now he's finally coming to his own) and having them find each other was magical.
AND THAT KISS.!!! HOLY SHITBALLS IT MOVED MOUNTAINS!!
And OMG, Blue and Gansey ❤ They finally had some time to actually be together after they told Ronan and Adam of their feelings towards each other. I was feeling so happy and sappy and mushy that I just couldn't….. I mean….. I literally was unable to read the ending for a couple of days just because I was scared for the prophecy playing out…..
and it did…. *cries* That ending…. well, we all knew what we were heading towards after reading the first book. And because of that first book, I was in so. much. pain!!! There were moments that nothing lined up with what we knew so I thought he would be safe…..
The floor was being ripped away below me and I feel hard down the pit into eternal sadness..
I do have to admit… that ending kind of confused me. I think I expected more of it.. maybe? It was kind of a let down after all we've been through in this series but it was also kind of predictable. Idk… I just have so many questions at the moment. Question that'll be left unanswered, I'm afraid…. until I meet Maggie that is xD
---
I rated this book with 4 out of 5 stars.
Like I said, it's pretty epic but it's not completely what I hoped it would be. Evenso, I recommend this series to everyone who loves to read. It's definitely a must-read. This series has become so dear to me, especially since I love all its characters and not just one or two.
With love,
Leanne