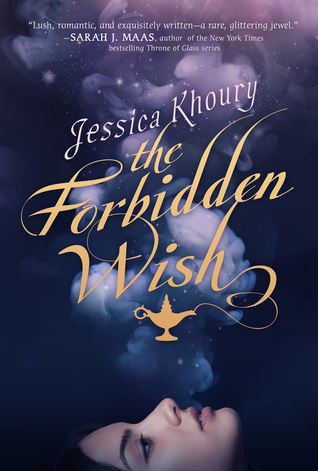 She is the most powerful Jinni of all. He is a boy from the streets. Their love will shake the world…
When Aladdin discovers Zahra's jinni lamp, Zahra is thrust back into a world she hasn't seen in hundreds of years—a world where magic is forbidden and Zahra's very existence is illegal. She must disguise herself to stay alive, using ancient shape-shifting magic, until her new master has selected his three wishes. 
But when the King of the Jinn offers Zahra a chance to be free of her lamp forever, she seizes the opportunity—only to discover she is falling in love with Aladdin. When saving herself means betraying him, Zahra must decide once and for all: is winning her freedom worth losing her heart?
As time unravels and her enemies close in, Zahra finds herself suspended between danger and desire in this dazzling retelling of Aladdin from acclaimed author Jessica Khoury.
---
After being sucked into the world of the Mid-East and all its riches when reading The Wrath and The Dawn, I wanted to read more books that focused on that particular part of the world. So I read Rebel of the Sands and ordered this book not too long after finishing that one.
When I read that this was going to be a retelling of the tale of Alladin, I was immediately excited. I've always loved that Disney movie so being able to dive into that story once again made me extremely happy.
The Forbidden Wish, however, isn't Alladin's story as much as it is the Jinni's. In this book we follow the spirit of the lamp throughout her connection to Alladin the thief, after being bottled up inside the lamp for over 500 years.
Alladin comes to rescue the lamp from the ruins of the city it once destroyed. The legend goes that an all-powerfull Jinni inside the lamp, once deceived and betrayed the Amulen Queen of Neruby and with it, destructed her city. This legend has been told for centuries and therefore, Alladin knows the story of Zahra the Jinni too.
Much to Zahra's displease, Alladin is weary of her. He knows not to trust her tricks. Instead he uses his wishes wisely without going through them as soon as possible. He uses them only to protect himself and his Jinni, until Zahra meets one of her own.
Jinni are a deceitful lot. They life of treachery, and always know how to bend wishful thinking their way as to blow the wishes up in their wisher's face. So when the Jinni tells Zahra she has to free Zhian, the Jinni prince, from imprisonment, Zahra is instantly suspicious. But better to risk her life in saving the prince than do nothing at all and lose her life for sure.
So Zahra comes up with a plan. She convinces Alladin he should wish he was a prince in order to ask for the princess's hand in marriage. Only then can he avenge his parents' deaths by ruling over the lands and its murderous citizens.
Alladin goes along with it.
With Zahra on his side, Alladin enters the palace of Parthenia under the cover of princeling. And that's where the true connection between Zahra and Alladin comes to live. Even before they entered the palace, Zahra did everything to make sure her master survived. If he didn't, she would be sucked back into the lamp. But after their entrance she comes to realize that she's protecting Alladin because she wants to. The fear of being sucked back into the lamp is certainly there but she comes to care for the boy.
Worst thing is… he comes to care for her too. More than she thought possible.
"To love is to destroy".
But being in love with a human is dangerous. Forbidden even….. Loving a mortal caused Zahra her heart last time and she's not sure she's up for that again. So when freedom is offered to her in exchange for betrayal, will she let history repeat itself?
I had some troubles with this book while I read it. Although it's amazingly descriptive and well-written, I felt something was missing at times. The story does have a nice depth to it with incredible rounded characters. There were some pretty badass female characters who weren't the typical damsels in distress, and there were some gorgeous male characters who all had a story of their own too.
I loved how we could read about Darian and his father, and why Darian is the way he is. I liked reading about Caspida and her alikeness to her ancestor, who Zahra knew better than her own thumb. And Alladin… He's so much better than the movie version. He's strong and funny, cunning but kind, and even though he struggles with a past that haunts him, he learns from his mistakes and opens himself up for new possibilities. Unlike the movie (I'm sorry to say that I don't know the original story yet), the Jinni doesn't change Alladin in this book. It's the other way around and I love that.
The things that I had trouble with were certain plot points. Zahra and Alladin must be secretive of who they really are but they speak about it so often -and out in the open, I must add- that it's crazy to know they haven't been found out. And the whole Zhain-rescue-mission played out a little too easy. I expected more tense chapters in which Zahra would rescue Zhain and come across some dangerous things that would lead to major cliffhangers… but she didn't. It was too easy. Setting him free from his bottle was too easy too.
There just wasn't any suspension there. It felt a little anti-climactic.
But, evenso, this story remains incredible. I got the PLZ-DON'T-KILL-MY-BABY feels and I felt like crawling into a corner and hide sometimes. It's amazing how Jessica can make the elements of Alladin's story come to live. Without knowing much about the Mid-Eastern setting (I only knew what I learned from the previous two books and some minor research using Google), I could imagine the city and the sea nearby. I saw the clothing and the palace come alive.
And that's praiseworthy.
---
This book is definitely a must-read. It's definitely on my recommandation list for everyone who likes to read something refreshing and fun. It's another opening into the world of Ghuls, Jinni and alike with a touch of Mid-Eastern cultures and uses that are certainly interesting to read about.
*Is slowly becoming a nerd for Mid-Eastern folklore*
I rate this book with 3.5 stars out 5. Like I said, it missed some suspension here and there. Sometimes things were solved too easily.
With love,
Leanne