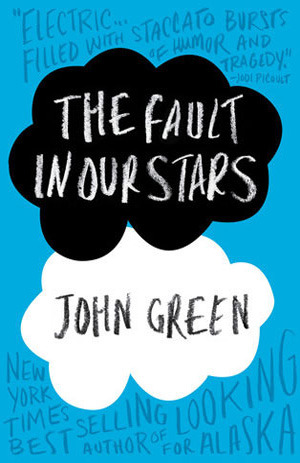 Despite the tumor-shrinking medical miracle that has bought her a few years, Hazel has never been anything but terminal, her final chapter inscribed upon diagnosis. But when a gorgeous plot twist named Augustus Waters suddenly appears at Cancer Kid Support Group, Hazel's story is about to be completely rewritten.
Insightful, bold, irreverent, and raw, The Fault in Our Stars is award-winning author John Green's most ambitious and heartbreaking work yet, brilliantly exploring the funny, thrilling, and tragic business of being alive and in love.
---
If you're planning on reading this and have yet to finish it for the first time, you're bound to get spoilered because this book is one of the most talked about books of the century.
I'm not kidding, the spoilers are everywhere. Even before there was a plan to turn this thing into a movie, social media platforms were littered with the one spoiler that'll ruin the whole thing.
I mean…. it happened to me too and I could not stop suffering from a feels overload when I read this book.
I initially bought the book because Tumblr -in the time I was still seriously addicted to it- has some really great posts and reviews on it so my curiosity was peaked.
BUT THEN I STUMBLED UPON THE BIGGEST SPOILER THERE IS IN THIS FANDOM AND MY LIFE WAS UTTERLY RUINED….
Anyway, I started this book right after I bought my copy. Is it sad to say that I sobbed the whole way through? It is, isn't it? Teehee…. I just… I couldn't stop the waterworks after being confronted with that epic spoiler before throwing myself into this cry-fest of a book.
The Fault In Our Stars is a book about Hazel, a teenage girl who has dealt with a terminal illness all her life. She's victim to lung-cancer, and is well aware that she won't ever get better. Instead of saving her life they're only extending it in the hopes of finding a cure that will someday fix her but as for now, she's convinced she's slowly dying.
Because of this, her parents want her to go to a support group so that Hazel learns to talk about her illness, and, maybe, makes some friends.
This is where Hazel meets Augustus, a guy who's survived cancer by losing his leg and never losing his optimism. He's the kind of guy who likes to make a statement to which Hazel kindly puts her own foot down but the two hit it off and quickly become friends which evolves into something more.
During this blooming romance, Hazel tells Augustus all about her favorite novel and her dream to meet its author. Augustus, not having spend his wish from a foundation, enables both of them to travel down to Amsterdam -including Hazel's mother- in order to meet the author and ask him some questions about the book.
Only… they discover that the author is nothing more than a huge D-bag who has no interest in helping the two out so instead they wonder through the foreign city while exploring Amsterdam and its Dutch riches.
And just when things can't be any more perfect, the world turns to shit.
Sorry for my cussing but it's the only appropriate word for this occassion. Read the book and see if you agree.
I absolutely loved the book. Even though I was majorly spoilered before I started, I enjoyed it. It was a bit too philosophical at times but that's John Green's writing style so I can't blame the book or the characters for that. Most of the time it worked, though but I couldn't quite keep the characters as teenager in my head whenever they spoke about infinities and deep dark voids etc. etc. etc.
---
Probably everyone has already read this book, so what did you think of it? Did you love it as much as the rest of Tumblr does?
With love,
Leanne