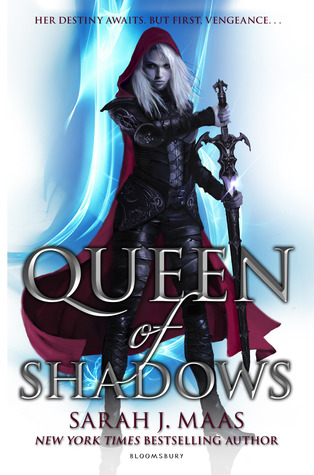 Everyone Celaena Sardothien loves has been taken from her. But she's at last returned to the empire—for vengeance, to rescue her once-glorious kingdom, and to confront the shadows of her past . . .
She will fight for her cousin, a warrior prepared to die just to see her again. She will fight for her friend, a young man trapped in an unspeakable prison. And she will fight for her people, enslaved to a brutal king and awaiting their lost queen's triumphant return.
Celaena's epic journey has captured the hearts and imaginations of millions across the globe. This fourth volume will hold readers rapt as Celaena's story builds to a passionate, agonizing crescendo that might just shatter her world.
---
Wauw…. Sarah J Maas is one hell of an author. I can't get over how skilled she is and the fact that she was only a teenager when she started this.. I just… I… Okay.. WOW ….

When I started reading Queen of Shadows, I immediately stumbled into the story and didn't come out of it until my eyes were so dry and tired that I HAD to put the book down and sleep. Unlike the Manon chapters in Heir of Fire, I actually enjoyed her POV this time. The addition of Elide made me more curious toward Manon. This time around it was so hard not to fall in love with each and every character eventually because the writing makes you care.
In this 4th novel of the Throne of Glass series we follow Aelin back to Adarlan where she plots to take back a family heirloom stolen by her old master, Arobynn Hamel but before she can take action she has to set her cousin Aedion Ashryver free from imprisonment and a death sentence.
I say Aelin on purpose because, let's face it, Celaena is no more. That cloak has been done with during Heir Of Fire at the end of some major and incredibly written character development.
Stronger than ever, Aelin reunites with Chaol and becomes part of his rebellion, yet with a mind of her own. Instead of integrating within their ranks, Aelin decides to live at one of her safe houses in town and spends the majority of her time there.
But soon she discovers what truly happened to Dorian. He has been claimed by the darkness in his own mind and Aelin is dead-set on setting him free by putting him down while Chaol struggles to save Dorian's life as well as setting him free.
Out of the entire series I think I like this part best. Queen of Shadows is packed with conclusions and plottwists that'll have you gasping for air. There are things you never have seen coming. I mean.. my mind exploded once or twice from astonishment or shock. Just like my heart exploded a bazillion times due to major feels.
I just want to applaud Sarah J Maas for her characters, by the way. They are so well written. They stay true to themselves… like Aelin, even though she faced some major changes in the past, finally comes to herself. Celaena would have ignored every problem relating to Terassen or the people who reside there still. She would have turned her back but not Aelin. She does what she has to do while remaining epically badass.
Chaol too. We've seen him crawling through life after he freed Celaena from Endovier. He's had his hardships and he's had to deal with his demons but now he's finally coming to find himself while his loyalty to his life-long friend remains.
Okayyy, I wanted to punch him in the face on multiple occassions for acting like a D-bag when in the previous books, all I wanted to do was hug him.
Still love him, though.
The chapters with Dorian were the hardest. Not out of boredom or anything but due to feels mostly. They were so painful and hard to read that I couldn't stop crying or screaming for someone to help him everytime we got to his POV.
AND we get some of Rowan too 😀 At the end of Heir of Fire, we see that Aelin leaves him behind to make sure things settle down after the battle on that end but we still check in with him. Thank God for that, though, otherwise I would've thrown my whole living room upside down.
I don't even have words enough in my dictionary.. Dutch or English that can desribe the way I feel about Throne of Glass as a whole and Queen of Shadows now that we're nearing the end line.
I'm sorry I can't say more but I don't want to post spoilers or say too much and ruin the whole thing for you but if you're reading this review and you haven't had the chance to read the series yet. READ IT and come back here to read QoS. Throne of Glass needs a little getting-into but you're gonna love it.
---
I gave this book a 5 star rating.
Like I said, this book is currently my favorite among all of them. I love love love this part and I can't wait to see what happens in the next book.
With love,
Leanne