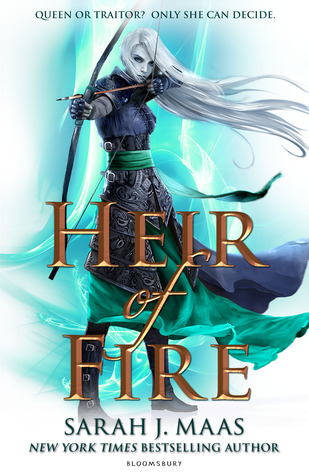 Consumed by guilt and rage, Celaena can't bring herself to spill blood for the King of Adarlan. She must fight back…
The Immortal Queen will help her destroy the king – for a price. But as Celaena battles with her darkest memories and her heart breaks for a love that could never last, can she fulfil the bargain and head the almighty court of Terrasen? And who will stand with her?
---
After my insane love for Crown of Midnight, I could not wait to get my hands on Heir Of Fire and after a 100 days of pure torture, hair-pulling and an absolute state of pure frustration and heartbreak I was finally rewarded with my very own copy of the third book in The Throne of Glass series.
In this installment we follow Celaena into Fae territory. At the end of the last novel we saw her say her goodbyes to Chaol after he sends her away on an endeavour to get away from the king and any harm that might come to her. She gives him a good hint to discover something huge. Something relating to her past.
She's Aelin Galanthynius. The legendary fae princess turned queen who supposedly died during the massacre that killed her parents. On her way to the Fae queen, Celaena's blocked at the border between two lands. Without being trained, she cannot enter the lands beyond and thus Celaena has to accept the hard and difficult training given to her by Rowan.
Rowan is one of the queen's protectors, bound to her by blood. It's his job to make sure Celaena is ready to control her fire before she's presented at court.
Back in Adarlan, Chaol and Dorian grow more and more apart. Dorian still struggles with his abilities and the fact that no one can ever find out he has the ability to use magic. Yet, he finds comfort in the arms of a servant girl named Sorscha. She pulls out the best in him. But this raises another hardship for Dorian, who's already bearing so much weight. If his father were to find out Dorian was seeing a servant girl, she would be put to death.
Chaol, however, finds himself working with the rebellion. He does what he has to to support Dorian and also Celaena, who's safely secured away from the king. Or so he believes.
So when the truth behind the king's schemes comes to light, all three of our beloved characters will come to harm.
But I'm not going to tell you how or when :p That's up to you to find out.
I will tell you how in love I am with this book. We get introduced to many new characters. One of them is Rowan who is a badass warrior, tasked with Celaena's training. I very much like him. He's one of the fae from the queen's court who has seen enough in life to make him the way he is. Rowan's stoic and carefully mannered. He never takes a step out of place… until he learns to see behind Celaena's walls. It loosens him up a little.
The dialogue between the two is absolutely precious. They have a dynamic that will make sure you will feel all the lovey-dovey feels whenever they share a scene together.
And thus my shipper heart broke and Chaolaena sunk to the bottom of the ocean.

Welcome Rowaelin *fireworks in the distance*
I'm also very happy that the story stuck with Dorian and Chaol. It didn't drop those POVs after Celaena embarked on her journey. Instead we still get to read about Dorian and his difficulties dealing with life as well as Chaol's struggles with the knowledge of Celaena's true self.
And yes, I'm a sucker for Chaol so whatever I could have of him I was happy with.
There's also Manon, who's a witch-leader from the Ironteeth clan. I didn't like her chapters all that much. That's not because I hated her or anything but I couldn't connect to her as a person. I felt bored with her POV and didn't really care at one point. But that's my opinion. Again, I'm not saying she was hateful or anything. I just couldn't be bothered to get to know her.
---
I gave this book 3 stars out of 5 but that doesn't stand anymore. I'm going to change it to 4 out of 5. It deserves the higher rate because the series is turning into something really epic and I can't wait for Empire of Storm which will release this year.
With love,
Leanne