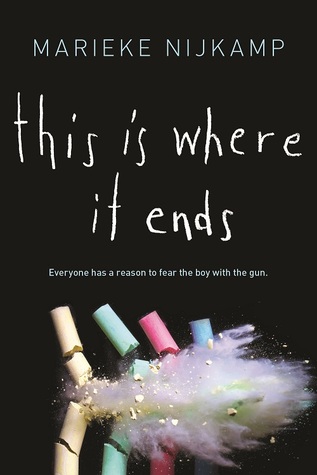 10:00 a.m.
The principal of Opportunity, Alabama's high school finishes her speech, welcoming the entire student body to a new semester and encouraging them to excel and achieve.
10:02 a.m.
The students get up to leave the auditorium for their next class.
10:03
The auditorium doors won't open.
10:05
Someone starts shooting.
Told over the span of 54 harrowing minutes from four different perspectives, terror reigns as one student's calculated revenge turns into the ultimate game of survival.
---
A friend of mine talked about this book so to see what she was talking about, I turned to my old friend Goodreads and read the synposis…
It. Took. My. Breath. Away.
After that I quickly decided I should head over to an online bookshop to purchase the Ebook. I needed it quick and I needed it now. So after downloading the Ebook onto my e-reader I started the first chapter.
Now, I knew to expect some major feels but nothing.. NOTHING prepared me for this hailstorm of pain and torment.
This Is Where It Ends is told by 4 different POVs.
We follow Autumn who loves to dance above all else and is the only daughter to an abusive man who drowns himself in alcohol after his wife's passing two years prior to the story. We also follow Sylv (Sylvia) who is Autumn's girlfriend, much to Autumn's brother's displease, and is the only one who stands by Autumn's side.
The third POV is Tomás who is Sylvia's twin brother and willing to do anything to safe her.
The last POV is Claire who is outside on that track fields when the shooting begins. Like Tomás, she's willing to do anything to safe her brother who is trapped inside the school.
At first this intricate maze of different POVs was a little chaotic to me. It was difficult to single them out as individuals but I blame that on the introduction of the book. There are several different lives that you have to familiarize yourself with in little time. After a few chapters it turned easy and became like breathing. The writing flowed, the story picked up and the pace was set. From there, the feels began to overload and I was panting and screaming in my comfy seat while my tea turned cold and my food turned stale. I just could not stop reading.
I was drawn into the story. So much so that I felt scared. Literally scared..
There were times that I could not breathe due to anxiety. It was so damn scary that I felt like crawling into a corner and hiding underneath a blanket while reading on.
The book tells us the story of Opportunity High a few moments after the morning assembly lead by the principal. When it's time for everyone to get to class the students discover that the doors to the hallways are locked up. The only one still open is suddenly blocked off by a figure holding a gun.
And that's when all hell breaks loose.
During the epic tale of rescue, sacrifice and bloodshed we follow the four students by reading about their lives, their loved ones and their connection to the shooter. We read about who the shooter is and different speculations about why he chose to become a killer. We get to see moments with him while he takes control of the auditorium and takes the lives of his fellow students in a particular order.
To make the story even more vivid, the author includes fragments of a blog from Mei who is the daughter of one of the teachers inside. We also see tweets from students sick at home or those who chose to skip school today or tweets from students stuck in the auditorium. Also, she includes a very revolting set of tweets to show how the media close in like vultures on those calling out for help on social media. Of course I knew that things like that happen but I was disgusted by it when confronted by it in a way like this.
But it happens IRL….. and I can't understand why people would do that? For real..
Another praiseworthy note is that this book is so rich with diversity. I absolutely loved it. There are so few diverse books out there and this one is a masterpiece in that small world.
---
I rated this book 5 stars on Goodreads and I stand by that decision. I will recommend it to anyone and everyone who loves to read. This is definitely a MUST-READ. Not only because of its content but also due to its amazing writing.
With love,
Leanne