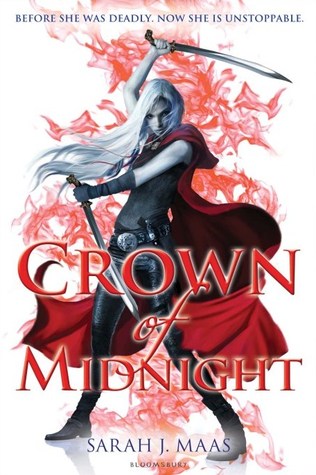 Crowned by Evil.
Bound by Duty.
Divided by Love.
Celaena Sardothien, royal assassin, is the King of Adarlan's deadliest weapon. She must win her freedom through his enemies' blood – but she cannot bear to kill for the crown. And every death Celaena fakes, every lie she tells, put those she loves at risk.
Torn between her two protectors – a captain and a prince – and battling a dark force far greater than the king, Celaena must decide what she will fight for: her liberty, her heart or the fate of a kingdom…
---
Unlike the first book, Crown Of Midnight blew me away right from the start. This book is 10.000.000 times better than the first one, mainly because it's action packed from the first page on. I really enjoyed reading this sequel. It's kept me awake at night while I failed at any attempt to find answers to the riddles given to us by Sarah. I read it in one go. I lost all ability to put it down. It was just that great.
Crown Of Midnight continues the story of Throne Of Glass. Celaena is currently the king's Champion and has to do what he says or else she'll lose her life. Or worse… he'll kill those she loves most. So she's forced to be his handy man and kill those he names, however, Celaena doesn't kill her victims. Instead she forces them to flee the country under the use of a different name and the promise never to be seen again. This choice could jeopardize the lives of her friends but in order to work against the King, Celaena has to do what she has to do but when the king orders her to kill an old friend of hers, things start to get tricky. Celaena will start to doubt her trust in others and when she finds herself betrayed, the world is no longer safe. 

I really came to like Celaena a lot in this book. The bad-ass side of her had more showtime. All that assassin talk finally came to practice. What was truly interesting is the fact that Celaena has a certain boundary. One that'll transform her into a senseless killing machine when crossed.  She becomes this whole other person when she gets in that zone. It's actually kind of menacing when we finally get to see what happened in Endovier during her attempt to escape.
Celaena is a bit more open to us as well. She tells us more about herself and her past but Sarah knows how to keep it interesting while making us wait for the most important pieces of Celaena's past. She does give us clues throughout the story like the hymn Rena sang at the banquet for Hollin. She sang about a Fae woman who possessed a power so great most of the people feared her but one knight who's fear turned to love. Love for who she truly is and not the way she appears to be. You can't tell me that this song isn't about Celaena……
In Crown of Midnight I also came to terms with Dorian. I actually came to like him. His way of handeling things changed due to Celaena's influence which resulted into some very appreciated character growth. Also, Dorian gets more spice in this installment of the series. He finally manages to stand up for himself and make his own choices. Dorian discovers that, in a land where magic is banned, he is still able to practice magic. It flows in his veins when it really shouldn't be active. So he hides it from everyone to keep himself safe. This hardship challenges his personality. He becomes a little withdrawn but this process makes him grow up. It turns him into a better person.

We also get to see some more of Chaol (which I didn't mind at all). In this book we get to learn about Chaol's parentage. We are told about what happened between him and his family and why he chose to become the captain of the guard at such a young age. There's a certain depth to him that we get to delve into in this book and I loved that. Chaol is my absolute bae of this series.
 In Crown of Midnight we also see a change in ships. Whereas Dorian and Celaena were the main ship in Throne of Glass, it's all Chaolaena in Crown of Midnight. The chemistry between the two of them kickstarted fireworks in my head. My heart exploded with happy feels during a certain scene in a closet that involved the shedding of clothes and lots of kissing.
But there's one large obstacle in this relationship, namely Chaol's allegiance to the king. He's torn apart by his duty to the king and his feelings for Celaena who is ultimatedly a huge threat to everything he knows. He's so broken that Chaol ends up making all the wrong choices which could cause him his life as well as his heart.

A major part of this book is about Nehemia whom we met in Throne of Glass. She's one of Celaena's best friends and confidants. Earlier, in Throne of Glass, there was a sense of Nehemia knowing more about Celaena that she let on. That sense became a painful truth in this book. Threats are closing in on Nehemia. They force her to make drastic choices in order to get things done. Choices that will eventually lead to a major character development in the Celaena department.
This series is becoming more and more like a high-fantasy containing a lot of world building, exploration and character growth. Yet again there are several POVs that guide us through this information packed novel but this time it doesn't get draggy. This time I en joyed the discovery of Dorian's magical abilities and the slow collapse of the trap that has been set around Celaena. I'm loving the series more and more.
---
I rated this book 4 stars on Goodreads. I think it deserves just a little more praise so I'll change it to 4.5. I have really come to live this series mainly due to this book. It broke my heart as well as made it jump with jitters which made me all the more excited for Heir of Fire.
With love,
Leanne