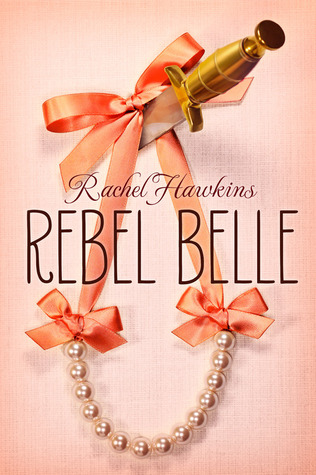 Harper Price, peerless Southern belle, was born ready for a Homecoming tiara. But after a strange run-in at the dance imbues her with incredible abilities, Harper's destiny takes a turn for the seriously weird. She becomes a Paladin, one of an ancient line of guardians with agility, super strength and lethal fighting instincts.
Just when life can't get any more disastrously crazy, Harper finds out who she's charged to protect: David Stark, school reporter, subject of a mysterious prophecy and possibly Harper's least favorite person. But things get complicated when Harper starts falling for him—and discovers that David's own fate could very well be to destroy Earth.
With snappy banter, cotillion dresses, non-stop action and a touch of magic, this new young adult series from bestseller Rachel Hawkins is going to make y'all beg for more.
---
Rebel Belle is one of the funniest, refreshing and perky books I have ever read. It's not really a book I would've picked out to read on my own so I'm glad that it was recommended to me.
I know we're not supposed to judge a book by it's cover but since I'm not a make-up, pearly and fashionable kind of girl I don't usually go for these types of novels but this one completely blew me away.
Rebel Belle is a book about Harper Price who is a perfect example of good manners, beauty, fashion and a debutante. She is, what we might call, a southern belle. Harper dreams of being crowned Prom Queen, being represented in Cotillion (a sort of coming out of age thing for debutantes) and participating in almost all of the important school activities like SGA. AND, to top it all off, she's dating high-school hunk Ryan.
A perfect life, you might say but things are not so perfect when Harper finds herself in the middle of a deadly fight during Homecoming prom in one of the girl's bathrooms. The janitor, right before he dies, gives Harper his supernatural ability to fight just before her history teachers crashes into the room and attempts to kill her.
Suddenly transformed into an A-level fighter, Harper notices more and more strange things around her. Her high-school nemesis, David Stark seems to pop up everywhere and suddenly she can't poke him, hit him or shove him. Instead her hands hover six inches from him without the ability to move a single inch further. And that's not the only weird part.
All of a sudden, Harper is hunted by people in black cars, girls with sharp objects and she finds herself charged with the cause of protecting the person she hates most in the world.
What a perfect life, right?
This book made me laugh SO HARD on so many occassions. Harper is one of the funniest characters I have ever come across. The way she thinks is hilarious. She's kinda condescending towards David for being a nerd and dressing the way he does while having seen all the super hero movies herself and actually kind of liking the way David dresses. That whole thought process is so quirky, I was giggling my way through it.
Apart from it being funny, I really loved the storyline. It was refreshing to have such a badass female lead without a know-it-all male counterpart. This time around, the male lead (David) is even more helpless than Harper is which makes the story even funnier. He, unlike many of our male heroes in YA books, doesn't know a thing about what's happening to Harper or to him. It was sooooo good to read about an outcoming like this where both characters know jack about what's happening. Both of them try to do research and find solutions to whatever is going on instead of the guy being the know-it-all and the source of information to the girl.
Another thing that is praiseworthy is Rachel's writing. There's a certain flow to it that makes it very easy to read. She also manages to put in thousands of cliffs and plot twists that'll make you feel all the feels. HOLY SMOKES! There were certain parts in this book that I could barely breathe… It's so exciting and thrilling to read and I definitely recommend it to everyone who loves YA.
---
I rate this book with 4 stars. I absolutely loved it and I'm very excited for the second book. Thankfully, the third book will be published this year so the wait for the final isn't that long 🙂
With love,
Leanne