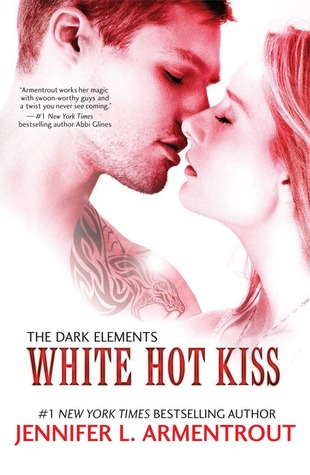 One kiss could be the last.
Seventeen-year-old Layla just wants to be normal. But with a kiss that kills anything with a soul, she's anything but normal. Half demon, half gargoyle, Layla has abilities no one else possesses.
Raised among the Wardens—a race of gargoyles tasked with hunting demons and keeping humanity safe—Layla tries to fit in, but that means hiding her own dark side from those she loves the most. Especially Zayne, the swoon-worthy, incredibly gorgeous and completely off-limits Warden she's crushed on since forever.
Then she meets Roth—a tattooed, sinfully hot demon who claims to know all her secrets. Layla knows she should stay away, but she's not sure she wants to—especially when that whole no-kissing thing isn't an issue, considering Roth has no soul.
But when Layla discovers she's the reason for the violent demon uprising, trusting Roth could not only ruin her chances with Zayne… it could brand her a traitor to her family. Worse yet, it could become a one-way ticket to the end of the world.
---
I. Adore. Jennifer L Armentrout.
Everything she touches turns to gold. Her writing is so entertaining, it blows my mind every single time. It flows. It's rocks. It sets off fireworks in my head. I'm in love with her books. Like for real… If I could ever marry a book, it would be one of hers. Well… maybe one of Cassandra Clare's but whateffs.
Anyway, all of that aside. I simply loved this first book in The Dark Elements trilogy. I plunged into the story from the start and fell in love with the characters. The emotional rollercoaster I took while reading Lux (LUUUUUXXXX <3) took me on another ride but this time it launched me right into the land that is Layla and her Wardens and Demons. I like the spin on how the whole Heaven and Hell situation works in this book and also the stories around Lilith and all the demons that are close to her or Lucifer.
Jennifer's version of this mythology is a fascinating. In this version people on earth are aware that there are Warden's who live among them after being sent to Earth by someone or something. The Warden's are tasked with protecting humankind from Demons while maintaining a certain level of secrecy. If humans were to find out about demons there would be a pandemonium.
Layla, half warden / half demon, lives with these Wardens. They took her in when they discovered her existance. But the Wardens are wary of her. They don't like the fact that she's more demon than Warden and most of them want to see her dead.
Except for Zayne.
Zayne is the son of the head Warden. When Layla en him were younger, he coaxed her out of her hiding by presenting her with a fluffy white stuffed bear and ever since they've been like brother and sister. Yet, even he can't keep Layla's inner demons away. She's insecure around him because her soul-sucking abilities might put him at risk.
But then she meets Roth. An upper level demon who tells her all about the demon world. In Layla's world Roth is probably the only person who takes her for who she is. The fact that she can suck out people's souls doesn't bother him, nor does it effect him much for he doesn't possess a soul for Layla to take. It links the two together in ways that Layla has to keep secret from her family.
And when those secrets break free, Layla's world collapses along with her safety. Suddenly she finds herself hunted and wanted by everyone on each side of the coin. The only place that she can run to is in the arms of those she once thought were her enemies… but the world is not so black and white.
When I read this book I could barely control my emotions. Like I said before, this was like a rollercoaster ride. Like one that will have your head spinning and your tummy turning. There were moments that I couldn't breathe. I fell in love with Zayne so you can imagine the heart ache I went through during the ride with him and Layla. There's so much chemistry between the two but also so much hurt. I wanted to shout at him several times as well as Layla.
Now Roth….. Him I just wanted to stare at and drool. For a very long time.
I might have read a certain rated fanfiction or two about him……
I have no regrets.. :p
Anyway, Jennifer keeps hitting you with things and twists and sudden plunges while ripping your heart out and grinding it to a pulp before returning it with a charming smile, ready for book 2.
She's evil. Pure evil!
With love,
Leanne