In the world of YA there are several larger fandoms like The Hunger Games, Divergent, Harry Potter, Percy Jackson, and The Mortal Instruments. As a reader of YA, I'm part of almost all of these fandoms (with the exception of Percy Jackson…. I have yet to read those books *whoops*)
BUT
There is one fandom that has ruined my life since 2011. It keeps me busy on a daily basis and it never gets boring. The fandom is like my family. It has given me many friends and a few best friends whom I hold very dear to my heart. Now.. I guess it's like that in other fandoms as well because that is what fandoms are for. We support each other while making sure everyone's feeling good. We do tend to fight each other from time to time but every family has its problems :p
Anyway, the fandom I'm talking about is the Shadowhunters fandom. After spending 6 years devoted to everything Shadowhunters, it's safe to say that I'm obsessed with it. I've read all the books, I've bought all the books and have dived into Shadowhunter history again and again to understand the world Cassandra created for us.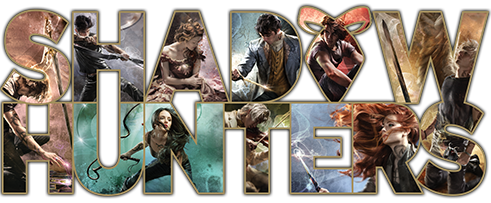 I discovered City Of Bones on a hunt for new books on Goodreads and bought it on a whim. Thank the Heavens for that. It was the best book I had ever read and that hasn't changed. Nothing compares to City of Bones and it's sequels. Many books have come close but Shadowhunters still rule my heart. And then came The Infernal Devices which blew my mind.
So in the past few years my collection of Shadowhunter books has trippled in size, making it my biggest collection of one author on my shelves.
I loved City of Bones so much that I bought the Hardcover edition additional to the paperback I initially bought. And when Barnes&Nobles came with a special edition of the new covers including an exclusive Jace POV chapter.. I just had to have it. It's the only hardcover edition of the new covers (sadly enough).
 My obsession became really bad when movie news was released. I finally registered for a Tumblr and went along in the craziness that ensued. Clary was announced (Lily Collins) and later on Jace too (Jamie Campbell Bower). I followed the news every day and couldn't wait for the movie to be released. I think I went to see it ten times when it finally came out. I remember drawing runes all over my arms when I went to see it for the first time.
I didn't care that it wasn't what I expected it to be or wanted it to be, I just wanted to get City of Ashes and therefore supported the movie as best as I could.
But even I have to admit that it wasn't all that great.
But it did have a really good side-effect 😀 Merchandise !! *parties all day long*
Hot-topic provided us with a whole line of clothing resembling those in the movie as well as leggings, bags, T-shirts and dresses. Ebay and other international online shops flooded with jewelry, posters, stickers and all kinds of accessories.
During that phase I bought one poster, received one from a local cinema, bought an Angelic rune ring, got a rune bracelet, purchased Jace's ring and Izzy's necklace and added the Shadowhunter tarot deck to my collection later on.
Now that the movie was a flop, I'm so very happy that we get another shot at it with the TV show. I adore the casting. The actors are amazing! Okay.. the acting might be a little better but every episode is better than the last one 😀 I'm hoping it does well so that we can get a season two (which is another step closer to getting Sebastian)
After the hype around the movie disappeared, the fandom laid low for a while until it was time for Clockwork Princess to be released. We all knew it was going to be painful but I never expected it to be THAT painful… I read the series once and haven't touched it again due to emotional trauma. Everytime I even see the name Jem or Will in a Cassandra Clare book, I'm sobbing like a toddler. Holy CRAP those books are…. A-MA-ZING!!
So I bought, apart from the paperbacks I already owned, the Collector's Edition of Clockwork Prince that had Will's letter to Tessa in it. Teehee *shoves all her money towards Cassie*

Also, when I found out about the Manga of The Infernal Devices, I emptied my pockets once again and bought that whole set too.
Apart from all of the Shadowhunter books, I also bought the Shadowhunter's Codex and some of the World Guides that have been written over the past few years. AND, of course, The Bane Chronicles. I need to get my Magnus/Malec fix from somewhere :p
I am so into Shadowhunters that I devoted my first tattoo to that fandom as well. Three years ago I went into a tattoo studio and walked out with this bad boy on my shoulder.
A year later, after visiting The Blackfriars Bridge in London I went back to the tattoo studio and got my favorite quote from The Infernal Devices tattooed on my lower arm.
I just love this world so much ❤
And that's where my collection ends. Until Lady Midnight arrives :p
So what is your obsession? Do you have an incredibly large collection of one author's books? And what drew you to that fandom?
Let me know in the comments 🙂
With love,
Leanne