The New York Times and USA TODAY bestselling collection of short stories chronicling the adventures of Simon Lewis as he trains to become a Shadowhunter is now available in print for the first time with ten brand-new comic illustrations!
Simon Lewis has been a human and a vampire, and now he is becoming a Shadowhunter. The events of City of Heavenly Fire left him stripped of his memories, and Simon isn't sure who he is anymore. So when the Shadowhunter Academy reopens, Simon throws himself into this new world of demon-hunting, determined to find himself again. Whomever this new Simon might be.
But the Academy is a Shadowhunter institution, which means it has some problems. Like the fact that non-Shadowhunter students have to live in the basement. At least Simon's trained in weaponry—even if it's only from hours of playing D&D.
Join Simon on his journey to become a Shadowhunter, and learn about the Academy's illustrious history along the way, through guest lecturers such as Jace Herondale, Tessa Gray, and Magnus Bane. Written by Cassandra Clare, Sarah Rees Brennan, Maureen Johnson, and Robin Wasserman, these moving and hilarious short stories are perfect for the fan who just can't get enough of the Shadowhunters.
---
I will review this per short story. I won't make blog posts about them separatly but one massive one. If you haven't read them all, it's probably wise to refrain from this post. There will be spoilers. You are warned 😉
---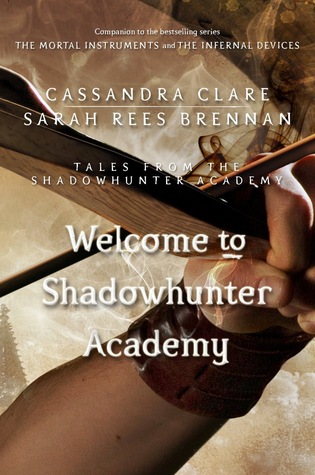 Welcome to Shadowhunter Academy.
After living as a Mundane and a Vampire, Simon never thought he would become a Shadowhunter, but today he begins his training at Shadowhunter Academy.
I didn't want to start these until they were all released and combined into one book like what happened with The Bane Chronicles but due to spoilers I couldn't contain myself any longer.
The writing style did take some getting used to because it was co-written but it pulled me in soon enough and the world of Shadowhunters came back to me easy.The first short story isn't about anything in particular except for the introduction of the Academy and Simon's path to becoming a Shadowhunter. Evenso, this one is packed full with witty conversations (I missed those so badly since TMI ended) and lots of references to my beloved TMI characters.
What I also missed was all the girls drooling over Jace. Same, girls, same :p I missed Jace's sharp sarcasm. I still can't believe that he won't come back in a series. Having him return to Idris to visit Simon and give a lecture made my day. I have so much love for these characters, I can't even…..
Oh and, btw, Thank you Cassie for that hailstorm of feels I didn't need. I hate you! (Just kidding, I love you)
---
The Lost Herondale.
Simon learns the worst crime a Shadowhunter can commit: desertion of their comrades. In the early nineteenth century, Tobias Herondale abandoned his fellow Shadowhunters in the heat of battle and left them to die. His life was forfeit, but Tobias never returned, and the Clave claimed his wife's life in exchange for Tobias's. Simon and his fellow students are shocked to learn of this brutality, especially when it is revealed the woman was pregnant. But what if the child survived… could there be a lost Herondale line out in the world today?
It's the second short story in this mini series but I'm loving it already. I am so in love with Cassandra's books and the Shadowhunting world that I can't stop smiling when I'm reading stories that involve my favorite characters.
I really loved seeing Clary in this one and finally having Simon come to some kind of epiphany about his memory loss and the way he should feel about that and those around him. Also, it was really interesting to learn about the Herondales some more. They're one of my fave Shadowhunter families and their history is fascinating to me (I got super excited when Will and James were mentioned…. I MISS WILL SO BADLY I CRIED) and I'm hoping to get some more Shadowhunting history in these stories.
---
The Whitechapel Fiend
Simon learns the truth behind the Jack the Ripper murders—"Jack" was stopped by Will Herondale, his former parabatai, and his institute of Victorian Shadowhunters.
This third short story in this series has set me down the most intense and emotional rollercoaster since I completed TMI and TID.
I. Was. Not. Ready. For. This. Shitstorm. Of. Feels.
I knew Will was involved in the story prior to reading but never did I expect to actually get back into Tessa's head and experience the world again with Will and Jem close by AND WATCHING THEM INTERACT WITH THEIR BABIES. Out of all the TFSA stories I've read so far, this is my absolute favorite. (I mean… it's got Jace and Will in one book/story so that's a given)
*cries for a thousand years*
---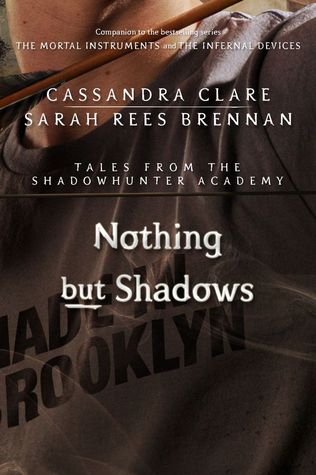 Nothing But Shadows
Simon challenges the setup of the Shadowhunter Academy and in doing so learns the story of James Herondale and Matthew Fairchild and the unusual way that they became friends and parabatai.
Even after stating that the third short story was my favorite, THIS story is my favorite. I love James. Nothing and no one compares to him. My love for the Herondales is growing even bigger. James is such a teddy bear who is like most of us. He surrounds himself by books rather than people.
Also, Will ❤ I warn you guys… Every time Cassie mentions Will in whatever context, I get highly emotional. I blame Clockwork Princess for that.
This short story was so sweet. It had us following James in his times at the Academy and making friends.
---
The Evil We Love.
All evil starts somewhere, and Simon Lewis learns how The Circle—led by Valentine Morgenstern—began. One of ten adventures in Tales from the Shadowhunter Academy.
The Shadowhunter Academy has only just reopened following the disastrous rise of the Circle. Now the faculty can finally admit to what happened when Valentine was a student.
This is the first TFSA story that I had a little difficulty with.
I loved it but it took some time to get through it.
I absolutely adore the fact that Cassier takes the plunge into the Circle's history. We don't get all the details, of course, but we're allowed a little look inside the Circle (and Cassie pledged never to write a story or a book about the time of the Circle due to the weirdness of having to visit teenager Circle members' minds) and she does it so well.
Along with her co-writer, she manages to keep everything we love and hate about the Circle members intact while exploring some of their worlds.
She also gives us some insight on Robert Lightwood and him as a person. (Unfortunately, it didn't do much for my liking of him but I can understand it might inspire some liking in other readers) And we finally get Izzy back *beware of major Sizzy feels* in action 😀
---
Pale Kings And Princes
Simon has an encounter with Downworlders and is reprimanded for not following the rules for Academy students interacting with Downworlders. A story within a story: Andrew Blackthorn, while a student at the Academy, becomes enthralled by a faerie and has two children with her: Mark and Helen.
In this part of Tales from Shadowhunter Academy we finally get some insight in Helen Blackthorn as a character. I really missed that in COHF and was looking forward to it in Lady Midnight. I was pleasantly surprised to see her return in Pale Kings and Princes.
Helen, as half seelie / half shadowhunter, has been banished to live outside Idris due to the impending war between the shadowhunters and the seelies at the end of COHF. Evenso, they call upon her to give a guest lecture at the academy about Seelie cruelty. It really goes to show how cruel the clave can be.
Oh the irony.
In this story we learn about the story behind Helen's father meeting her mother. But some stories might not be true at all.
---
Bitter Of Tongue
When Simon is kidnapped by the fey, he's amazed to find a friend in former Shadowhunter Mark Blackthorn. One of ten adventures in Tales from the Shadowhunter Academy.
After Simon is kidnapped by faeries (why is he always kidnapped?), he uncovers rumors of a secret weapon Sebastian left behind for the faerie queen. He must escape the Fey, relying on his only ally, former Shadowhunter and Dark Artifices character Mark Blackthorn.
I don't know what it is but these short stories make my heart burst with feels. I was only 6 pages into the story when my heart broke and I had to wipe away tears due to Mark Blackthorn.
I love how these characters can make me feel so many things. I don't often feel so much when reading short stories, extras or his/her POV but the Shadowhunting world gets it done. I love these characters so much and I hurt when they do and in this story it's the same. We get to see Mark again and the way he's changed crushes my heart.
I hate the clave. I really do.
And I hope, for Mark's sake, that it changes for the better in TDA because if they don't I'm going to start screaming.
---
The Fiery Trial
Emma Carstairs and Julian Blackthorn become parabatai. Simon and Clary both act as their witnesses, so they can see what a parabatai bond forming looks like as they want to become parabatai as soon as Simon graduates — and because Emma asked Clary. The ritual goes unexpectedly …
This was, by far, the weirdest story yet.
In this part we follow Simon into a meeting room where Clary, Luke, Magnus and Zachariah are waiting for him. During this meeting, both Clary and Simon get something to drink before being hauled away to another place.
That's where it gets weird. Clary and Simon end up in a hallucination where they lose each other and have to find their way back. When they finally make sense of the mind games and reunite, they return to the meeting room to find out the answer to the question the fandom has been asking since Simon lost his immortality :p
---
Born To Endless Night
Simon, like the rest of the Academy, is stunned when a navy-skinned warlock baby is found on the Academy steps. They hand the child over to guest lecturer Magnus Bane, who has to bring a child home… temporarily, of course… to his man!
DAAAAAHHHHH THIS WAS SO CUTE!!!
The Malec feels are so high at the moment. I swear! I mean… Alec with a baby *ovaries go boom*
We follow Simon as he finds a warlock baby. Magnus, present as a guest lecturer, offers to take care of it in the meantime, not aware that Alec takes it seriously. Soon ever Lightwood (plus Clary) are filling up his room, busying after the baby and making sure everything's in order so that Alec and Magnus can take care of it.
AND OMG THE FEELS.
---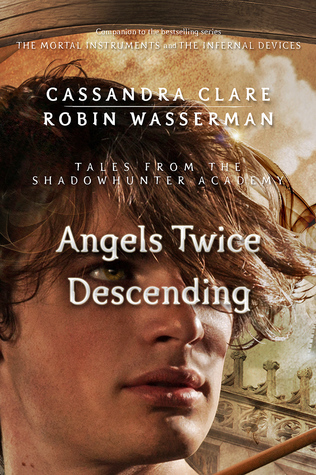 Angels Twice Descending
Someone lives and someone dies at Simon's Ascension ceremony.
I don't even know what to say 😦
I mean… this is what Cassie does best. She writes these incredible stories filled with characters that you fall in love with instantly only to rip them away in the end.
I'm so upset. This was… he didn't… HE DID NOT DESERVE THAT OKAY!!
*crawls into a corner and weeps for a thousand years*
---
The hardcover will be published in November this year. Hopefully you enjoyed it as much as I did.
With love,
Leanne