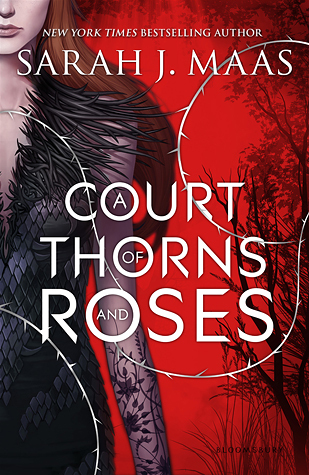 A thrilling, seductive new series from New York Timesbestselling author Sarah J. Maas, blending Beauty and the Beastwith faerie lore.
When nineteen-year-old huntress Feyre kills a wolf in the woods, a beast-like creature arrives to demand retribution for it. Dragged to a treacherous magical land she only knows about from legends, Feyre discovers that her captor is not an animal, but Tamlin—one of the lethal, immortal faeries who once ruled their world.
As she dwells on his estate, her feelings for Tamlin transform from icy hostility into a fiery passion that burns through every lie and warning she's been told about the beautiful, dangerous world of the Fae. But an ancient, wicked shadow grows over the faerie lands, and Feyre must find a way to stop it… or doom Tamlin—and his world—forever.
---
After reading and falling in love with Sarah's Throne of Glass series, I was fangirling like a maniac when I discovered she was going to write another series. Thankfully, the first book was released not too long after that discovery.
The first part is about 290-ish pages long. It's mainly about story- and world building. It begins with Feyre, a human girl who lives with her crippled father and a spoiled sister along the edge of the boarder. Beyond that boarder lies the land of Faerie. The Fae that inhabit it have oppressed humankind since forever. Feyre hates them with a passion. So when she comes across one when hunting, she decides to shoot him. She's completely aware of the fact that there's a death penalty for killing a Fae but due to a lack of good food, she decides it's worth the risk and takes the Fae -currently in his beast form- home with her.
It doesn't take long for her punishment to catch up with her, dooming her to live her life beyond the boarder in the Spring Court alongside the High Fae named Tamlin and his subordinate Lucien.
During her stay at the Spring Court, Feyre notices that everyone residing within the Court is stuck to wearing a masque. Like the ones you put on for a ball dance. In addition, Tamlin and the others keep talking about a Blight that has been raging down the Faerie lands. The more Feyre hears about this blight, the more suspicious she gets. She tries everyting in her power to uncover the truth so she can prepare herself and the humans still living in the villages beyond the boarder. But things are getting difficult when Feyre realizes she's falling for her master and it seems as if he's falling for her too.
Now… at that point I was super suspicious of Tamlin. I just could not understand how a Fae could court a female human like that. Especially considering she killed one of his friends. I didn't understand how he could act that courteous towards her, so -distrustful me- suspected he might do something to her like kill her, sacrifice her or something like that but he didn't. Up until that festival, I was convinced he was going to do something bad to her BUT OMG THAT FESTIVAL.
He was… and she was…. HE. BIT. HER. Actually nipped her during the make out scene and and and *giggles*
Sarah J Maas is so talented when it comes to writing about Fae. Her descriptions of them… the retellings of the lore.. it's incredible. Everyone who has ever looked up Faeries on Google knows they're like wild animals. Sarah's Fae are like wild animals, all right 😉
When in human form they can be gentlemanly as well as kind but also as dangerous as poison, especially in their animal form.
The second and last part of the book is the one I'm most excited about. It begins right after a huge plottwist which causes for an increase in pace. More of the mystery unfolds and things become a little clearer. You'll come to understand why the first part of the book was so vague and slow-paced. Everything is explained. I'm not going to tell you how or what exactly gets explained or I might end up ruining it for you. But trust me, it's friggin epic!
---
I give this book 4.5 stars. It's so well-written and detailed, it would be a shame if you pass this book by. I definitely recommend it to anyone who loves fairy-tale retellings, high fantasy books and fae.
Hot dayum, those Fae.
With love,
Leanne