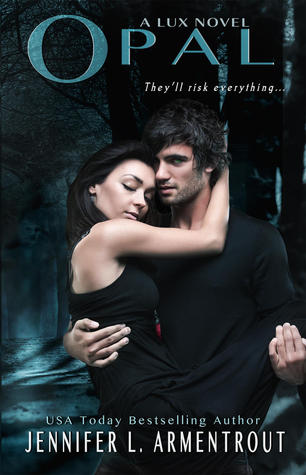 After everything, I'm no longer the same Katy. I'm different… And I'm not sure what that will mean in the end. When each step we take in discovering the truth puts us in the path of the secret organization responsible for torturing and testing hybrids, the more I realize there is no end to what I'm capable of. The death of someone close still lingers, help comes from the most unlikely source, and friends will become the deadliest of enemies, but we won't turn back. Even if the outcome will shatter our worlds forever.
Together we're stronger… and they know it.
---
THIS SERIES JUST KEEPS GETTING BETTER AND BETTER.
HOW IS THAT EVEN POSSIBLE?!?!?!?!?!?!
I feel dead inside but at the same time I feel sooooooo good after reading Opal. I didn't think it could get much better after the second book (Onyx) BUT IT DID.
I compared Onyx to a rollercoaster ride. One that was thrilling and long. Well Opal is even more than that. It's like trying every single ride in one sweep, without stops, without waiting just do them all and never stop.
I felt sick. I felt dazed. I felt hyped. I felt like crying my eyes out, crawling in a corner and never come out all the while I craved more and more. I need more Daemon and Katy in my life. I love their interactions and the bickering. It's so damn funny and witty. I love it so much.
The storyline in this book is amazing too. Instead of the constant back and forth between Daemon and Katy, they've come to terms with their feelings towards each other and are actually dating. Without all of that drama this book has more room for sexy stuff and HOLY SMOKES Jennifer knows how to deliver :p In most YA books there is a certain point where the main couple has sex but you never get to read about that stuff. It's always placed in to a fast-forward or something.
Jennifer describes feelings, actions and movements with nothing too graphic. She's incredible like that and I need more of that.
But, let's get back to the storyline :p In Opal we get to know Dawson, who is wrecked with guilt towards his girlfriend. Beth still resides with the DOD and he needs to get her out above all other. Daemon does not agree. He finally has his brother back and he won't risk him or anyone else for Beth but it becomes clear Dawson isn't going to back down. That's why Katy strikes a deal with him. They'll search for Beth together as long as Dawson promises to cooperate and be part of the team instead of going at it alone. And thus, the quest begins.
During their investigations, the team is joined by Blake. Katy and Daemon are immediately suspicious of him but choose to trust him instead.
But then things start to blow up in their faces. Again…
---
I just can't express enough how much I'm in love with these books. They might have even pushed TMI and TID off the first place on my favorite list. Although, that hurts to say. Ah well.. I love this series. With all my heart.
With love,
Leanne