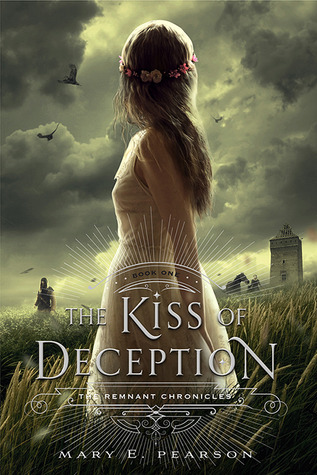 A princess must find her place in a reborn world.
She flees on her wedding day.
She steals ancient documents from the Chancellor's secret collection.
She is pursued by bounty hunters sent by her own father.
She is Princess Lia, seventeen, First Daughter of the House of Morrighan.
The Kingdom of Morrighan is steeped in tradition and the stories of a bygone world, but some traditions Lia can't abide. Like having to marry someone she's never met to secure a political alliance.
Fed up and ready for a new life, Lia flees to a distant village on the morning of her wedding. She settles in among the common folk, intrigued when two mysterious and handsome strangers arrive—and unaware that one is the jilted prince and the other an assassin sent to kill her. Deceptions swirl and Lia finds herself on the brink of unlocking perilous secrets—secrets that may unravel her world—even as she feels herself falling in love.
---
THIS STORY IS THE MOST EPIC MINDFUCK I HAVE EVER READ O_O
That said, enjoy the book :p
No but seriously, this book is so damn misleading and so well-written that you don't suspect a thing until it starts to screw with your brain and leaves you a sobbing mess.
The book starts off with Lia, the princess of Morrighan and the one they call "The First Daughter". That makes her someone who should have the gift but Lia has always known she's different from the long line of First Daughters. She doesn't have the gift. Also, she refuses to get married to someone she has never met or seen before so she flees her home on the day of her wedding to get away from it all.
Because the story picks up from there, it can go either way. Mostly when it comes to YA stories like this one you can already guess her being the chosen one, being the most powerful etc. etc. but I felt like it wasn't like that in this book. Lia is convinced that she's nothing really special, aside from being princess, and eases into a normal peasant life easily.
You could say.. what a boring read but NOPE. This book has several POVs which make it so interesting to read that you can barely stop. You get to crawl inside the head of an assassin, sent to kill the heir of Morrighan but also inside the head of the prince Lia was supposed to marry. Both of them find Lia in her hideout and choose to life beside her, waiting to reveal themselves.
Only later do you come across the most epic plottwist of all time and that's where your world will begin to crumble. Your heart will start racing, your mind will blow to pieces, your heart will rip itself to shreds and with every chapter closer to the end you'll end up more and more like this guy.
<<<<<<<<<<<<<<<<<<<<<<<<<<
This book also contains a lot of world building that is so rich and descriptive… it's gorgeous. The world where Lia lives in has it's own cultures. It's own languages, religion etc. There is so much detail to this world and it's carefully presented to you layer upon layer without overwhelming you with a shitload of information. There's new things to be learned every once in a while and you'll learn them via Lia, via the assassin and the prince. You get to know the world while reading about the web closing in on Lia.
God, I love this book.
With love,
Leanne